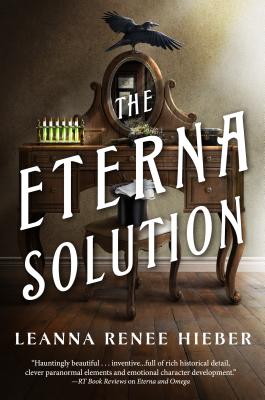 The Eterna Solution (Hardcover)
The Eterna Files #3
Tor Books, 9780765336767, 320pp.
Publication Date: November 14, 2017
* Individual store prices may vary.
Description
PRISM AWARD-WINNING AUTHOR
Unnatural howls echo across the Atlantic | Lady Liberty's torch blazes with hellfire | Dead bodies shamble through the grounds of Columbia College.
It's 1882 and two government divisions of paranormal investigators have completed a most harrowing task—stopping a demonic nobleman from taking over the British Parliament. Now the motley crew of psychics, scientists, scholars, and magicians must race across the ocean to Manhattan to protect it from evil forces they believe Moriel unleashed.
American Clara Templeton's psychic powers have grown exponentially but she worries that defeating the sinister forces arrayed against them will cost her her life. Londoner Harold Spire, once a Scotland Yard detective, has had just about enough of the occult, though he has seen his team's supernatural powers at work. Together, the American Eterna Commission and the British Omega Department hope to save New York City without destroying themselves.
In this climactic third installment of The Eterna Files series, Prism Award-winning author Leanna Renee Hieber delivers a delightful Gaslamp fantasy set in 19th century New York and Washington D.C., rich with detail and embroidered with a cast of captivating characters.
The Eterna Files series
The Eterna Files
Eterna and Omega
The Eterna Solution
About the Author
Leanna Renee Hieber helped create the gaslamp fantasy subgenre with her first novel, The Strangely Beautiful Tale of Miss Percy Parker, which won two Prism Awards for RWA's Fantasy, Futuristic, & Paranormal Chapter. A talented actress and singer who has been seen on stage and screen, Hieber can also sometimes be spotted leading ghost tours of New York City's Central Park. Her first YA novel, Darker Still was a Scholastic Highly Recommended Title, an INDIE NEXT selection, and a finalist for the Daphne du Maurier Award. Her books from Tor include The Eterna Files, first an historical urban fantasy/gaslamp fantasy series, and the author's preferred edition of Strangely Beautiful, which contains The Strangely Beautiful Tale of Miss Percy Parker and The Darkly Luminous Fight for Persephone Parker, united as the single novel the author originally intended, revised and with the addition of several new scenes. Hieber grew up in Ohio and now lives in the New York City area.
Praise For The Eterna Solution: The Eterna Files #3…
Praise for the Eterna Files series
"There's a little of bit of everything in this series, from romance to action to incredibly gruesome and horrifying dinner parties. This is the Gothic, after all."—Criminal Element
"Authentic Victorian atmosphere and colorful personalities that will keep readers coming back for more."—Publishers Weekly on The Eterna Files
"Expands the hauntingly beautiful world of Hieber's inventive gaslight fantasy series and is full of rich historical detail, clever paranormal elements and emotional character development."—RT Book Reviews on Eterna and Omega
"Adeptly engages with important issues like equality for women, as well as for people of all races, sexual orientations, and religions, and shows how these issues fit into a Victorian context. I certainly recommend that you checkout Eterna and Omega, along with any of Leanna's other works."—The Gothic Library
"The ghosts, spirits, and other mysterious beings that make an appearance in the novel often prove truly spooky, just as they should in a good ghost story. Readers who enjoy a skillful mixture of history and paranormal elements will be well-pleased with the terrific The Eterna Files."—Bitten By Books
"Rich in conceits as anything from Alan Moore, Hieber's novel mixes action and the emotional lives of its characters into a fascinating stew."—Paul Di Filippo, Asimov's Science Fiction, on The Eterna Files
"Heightens the tension and sharpens the points of contradiction for an age on the cusp of change."—Locus on Eterna and Omega
"Hieber creates an intriguing supernatural underworld, with the late 19th century providing an engaging backdrop for scandals and dangers. [An] entertaining series."—Publishers Weekly on Eterna and Omega
"Hieber's formidable imagination is given free rein in this smart, boundlessly creative gaslamp fantasy. She blends historical fact and paranormal fiction with ease, creating a world that is lush and fascinatingly strange, and reveals her secrets sparingly, keeping fans on edge."—RT Book Reviews on The Eterna Files
"A rainbow of characters, from the guilt-ridden to the intellectual to the satirical, which will have readers chomping at the bit for more."—Suspense Magazine on The Eterna Files
or
Not Currently Available for Direct Purchase