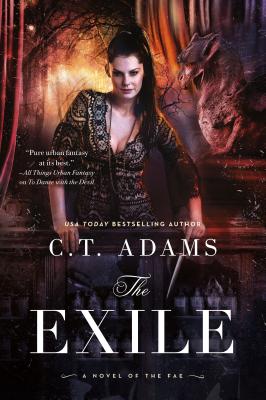 The Exile (Paperback)
Book One of the Fae (Book of the Fae #1)
Tor Books, 9780765336873, 320pp.
Publication Date: March 10, 2015
* Individual store prices may vary.
Description
The USA Today bestselling author of the Blood Singer series begins an exciting, romantic urban fantasy series with the story of Brianna Hai, who just wants to lead a normal life. Fat chance when your mother's a witch and your father's King of the Fae.
But Brianna's doing her best. She runs a small occult shop that sells useless trinkets to tourists...but real magic supplies and artifacts to those who know how to ask. She dates occasionally, and has just met a really great guy, a cop who happens to be the brother of one of her closest friends.
But that gargoyle by the shop door? He's not a carving. He's alive, and Brianna's guardian. And upstairs, in her apartment, is the last remaining portal between earth and the realm of the Fae--a world that Brianna left in her teens, a place she has vowed never to return.
Until a shocking magical assault on her home leads Brianna to invade the land she once called home and reveals that the plots and counterplots of her youth continue to roil the royal court. Her father, King Leu, is under attack--and she, Brianna, the exile, has been named the next heir to the throne of Faerie. It's a very dangerous seat.
A suspenseful urban fantasy with a hint of romance, The Exile is the first solo novel by C. T. Adams, who is half of USA Today bestselling author Cat Adams. Like the Cat Adams Blood Singer novels, The Exile is set in a world where magic is real and contains Adams's trademark blend of suspense, action, humor, and strongly emotional writing.
About the Author
C. T. Adams is a bestselling author of urban fantasy and paranormal romance. Her books include The Exile, the first Book of the Fae; and Touch of Evil, the USA Today bestselling first volume in the Thrall series, which she co-wrote with Cathy Clamp. Cie and Cathy also co-wrote the original Tales of the Sazi--the first in that series, Hunter's Moon, was also a USA Today bestseller-and the first six books in the Blood Singer series, which begins with Blood Song. Cie lived in the Denver metro area for seventeen years before moving to the Texas Hill Country, where she lives with a large dog and several cats.
Praise For The Exile: Book One of the Fae (Book of the Fae #1)…
"Rich worldbuilding...action-packed and teeming with Adams' trademark suspense and mystery."—RT Book Reviews
"Mashes together the classic world of faeries, demons, pixies and assorted mythical creatures with elements of romance novels. There's palace intrigue, a burgeoning romance, plenty of action, some ruminations on the cost of leadership.... All in all, it's a fun read and a good start for a series."—San Jose Mercury News
"Entertaining reading."—Locus
"The Exile is a fast-paced race of a book, full of twists and turns and a great new world to explore. I loved the intrigue and the mystery of the fae court, and how the reader is given just enough information about certain aspects to leave them wanting more."—All Things Urban Fantasy
"Exciting and surprising. Great fun."—Bookloons
"Adams goes solo with this new series launch, which has all the right ingredients for a long run: political intrigue, magical struggles, even a possibility that there might be a romantic entanglement somewhere down the line. This should appeal to fans of Seanan McGuire's 'October Daye' series."—Library Journal