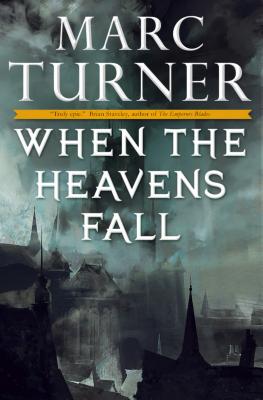 When the Heavens Fall (Hardcover)
The Chronicles of the Exile, Book One
Tor Books, 9780765337122, 544pp.
Publication Date: May 19, 2015
Other Editions of This Title:
Paperback (2/2/2016)
Mass Market (2/2/2016)
Pre-Recorded Audio Player (5/1/2016)
MP3 CD (2/2/2016)
* Individual store prices may vary.
Description
If you pick a fight with Shroud, Lord of the Dead, you had better ensure your victory, else death will mark only the beginning of your suffering.
A book giving its wielder power over the dead has been stolen from a fellowship of mages that has kept the powerful relic dormant for centuries. The thief, a crafty, power-hungry necromancer, intends to use the Book of Lost Souls to resurrect an ancient race and challenge Shroud for dominion of the underworld. Shroud counters by sending his most formidable servants to seize the artifact at all cost.
However, the god is not the only one interested in the Book, and a host of other forces converge, drawn by the powerful magic that has been unleashed. Among them is a reluctant Guardian who is commissioned by the Emperor to find the stolen Book, a troubled prince who battles enemies both personal and political, and a young girl of great power, whose past uniquely prepares her for an encounter with Shroud. The greatest threat to each of their quests lies not in the horror of an undead army but in the risk of betrayal from those closest to them. Each of their decisions comes at a personal cost and will not only affect them, but also determine the fate of their entire empire.
The first of an epic swords & sorcery fantasy series, Marc Turner's When the Heavens Fall features gritty characters, deadly magic, and meddlesome gods
About the Author
MARC TURNER was born in Toronto, Canada, but grew up in England. He graduated from Lincoln College, Oxford University, in 1996 with a BA (Hons) in Law, and subsequently worked at a top-ten law firm in London. After more than ten years in the legal profession he gave in to his lifelong writing addiction and now works full time as a writer. When the Heavens Fall is his first novel.
Praise For When the Heavens Fall: The Chronicles of the Exile, Book One…
"A splendid launch. Turner's unquestionably a newcomer to watch." —Kirkus Reviews, starred review
"Turner has created a powerful fantasy where mystery and magic pervade each character, each quest, each corner of a vast and vibrant world.... The battles and betrayals that fill the pages of When the Heavens Fall are truly epic in their scope and impact." —Brian Staveley, author of The Emperor's Blades
"Beautifully imagined and complex...Gritty and dark, the scope of Turner's world will keep readers rapt and nervous--which is the hallmark of great worldbuilding." —Elizabeth Haydon, USA Today bestselling author of The Symphony of Ages
"A compelling read brimming with magic and action, scheming and intrigue. When the Heavens Fall is an impressive debut. I look forward to more tales from Marc Turner." —D. B. Jackson, author of the Thieftaker Chronicles
"A classic epic fantasy, with a complex world, interesting characters, and plenty of action." —Gail Z. Martin, author of Reign of Ash
"Love, revenge, devious gods, legions of undead, great sacrifice--this one has it all! Good old-fashioned swords & sorcery, turned up a notch." —Ed Greenwood, creator and author of the Forgotten Realms series
or
Not Currently Available for Direct Purchase