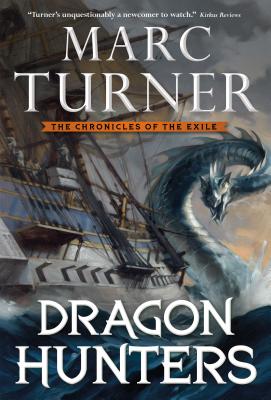 Dragon Hunters
The Chronicle of the Exile, Book Two (The Chronicles of the Exile #2)
Hardcover

* Individual store prices may vary.
Other Editions of This Title:
MP3 CD (7/5/2016)
Description
Dragon Hunters, the sequel to Marc Turner's When the Heavens Fall features gritty characters, deadly magic, and meddlesome gods
Once a year on Dragon Day the fabled Dragon Gate is raised to let a sea dragon pass from the Southern Wastes into the Sabian Sea. There, it will be hunted by the Storm Lords, a fellowship of powerful water-mages who rule an empire called the Storm Isles. Alas, this year someone forgot to tell the dragon which is the hunter and which the hunted.
Emira Imerle Polivar is coming to the end of her tenure as leader of the Storm Lords. She has no intention of standing down graciously. She instructs an order of priests called the Chameleons to infiltrate a citadel housing the mechanism that controls the Dragon Gate to prevent the gate from being lowered after it has been raised on Dragon Day. Imerle hopes the dozens of dragons thus unleashed on the Sabian Sea will eliminate her rivals while she launches an attack on the Storm Lord capital, Olaire, to secure her grip on power.
But Imerle is not the only one intent on destroying the Storm Lord dynasty. As the Storm Lords assemble in Olaire in answer to a mysterious summons, they become the targets of assassins working for an unknown enemy. When Imerle initiates her coup, that enemy makes use of the chaos created to show its hand.
Praise For Dragon Hunters: The Chronicle of the Exile, Book Two (The Chronicles of the Exile #2)…
"Plenty of surprises, stunningly inventive magics, witty dialogue, and flashes of bleak humor amid the carnage. A yarn that, with its second novel woes, trips, staggers, and recovers, ultimately to delight and enthrall." —Kirkus
"This is a highly original fantasy novel that turns away from the conventional and launches the reader into a beautifully detailed story, full of intrigue and corruption ... It is highly character driven, whilst also ensuring that the world building is of a great quality. This novel has firmly put Marc Turner as one of the best newcomers in fantasy. We look forward to seeing his The Chronicles of the Exile becoming further developed. Marc Turner is what the fantasy genre has been looking for."—STARBURST Magazine
"Turner's second Chronicle of the Exile novel features the same wildly imaginative settings, wonderfully empathetic characters, troublesome magic and high-stakes adventures that made his debut such a success. He balances an enormous setting and legendary monsters with flashes of insight and humor that keep the story consistently captivating, all while crafting a battle of wits and determination that builds to a riveting climax. New readers will most likely be able to enjoy this book, but it is definitely worth reading both books in this winning series to appreciate the full scope of Turner's impressive ingenuity."—RT Book Reviews
"Turner's Lands of the Exile rival George R.R. Martin's Westeros in their depth and complexity. Fans of fantasy will love DRAGON HUNTERS. In fact, it might be the perfect way to whet the appetites of fans waiting for the upcoming Warcraft movie. Turner has truly set the stage for an epic fantasy series that, in only its second volume, is getting hotter and hotter."—Dark Media Online
"DRAGON HUNTERS is another intricate and fascinating fantasy in The Chronicles of the Exile. While it is somewhat a sequel to WHEN THE HEAVENS FALL, it can easily be read on its own, though you'll probably then be too addicted to not go back and read book one. If you enjoy addictively readable fantasies with many interweaving points-of-view, this is a series not to miss!"—On Starships and Dragonwings
"The sea dragons are, of course, the main attraction here, and it's well worth the wait for them to appear on the scene. Their presence has mythological as well as political implications, and in a book where political schemes are almost as serpentine as the dragons themselves, that leaves them a large role to play ... DRAGON HUNTERS maintains the same dark sense of humor and epic scope of imagination that made [the first book] so enjoyable."—Speculative Herald
For When the Heavens Fall:
"Turner has created a powerful fantasy where mystery and magic pervade each character, each quest, each corner of a vast and vibrant world.... The battles and betrayals that fill the pages of When the Heavens Fallare truly epic in their scope and impact." —Brian Staveley, author of The Emperor's Blades
"Beautifully imagined and complex...Gritty and dark, the scope of Turner's world will keep readers rapt and nervous--which is the hallmark of great worldbuilding." —Elizabeth Haydon, USA Today bestselling author of The Symphony of Ages
"A classic epic fantasy, with a complex world, interesting characters, and plenty of action." —Gail Z. Martin, author of Reign of Ash
Tor Books, 9780765337139, 496pp.
Publication Date: February 9, 2016
About the Author
MARC TURNER was born in Toronto, Canada, but grew up in England. He graduated from Lincoln College, Oxford University, in 1996 with a BA (Hons) in Law, and subsequently worked at a top-ten law firm in London. After more than ten years in the legal profession he gave in to his lifelong writing addiction and now works full time as a writer. When the Heavens Fall is his first novel.
or
Not Currently Available for Direct Purchase