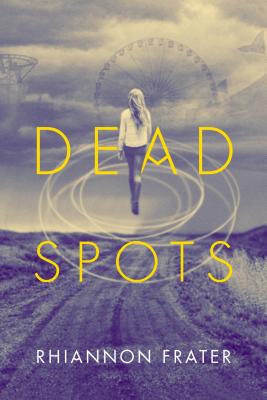 Dead Spots
Paperback

* Individual store prices may vary.
Other Editions of This Title:
Compact Disc (11/5/2019)
MP3 CD (6/14/2016)
Description
New horror from Rhiannon Frater: in the dead spots, dreams become reality, terror knows your name, and nightmares can kill

The stillbirth of Mackenzie's son destroyed her marriage. Grieving, Mac reluctantly heads for her childhood home to seek refuge with her mother, who constantly reminds her of life's dangers.

Driving across Texas, Mac swerves to avoid hitting a deer...and winds up in a dead spot, a frightening place that lies between the worlds of the living and the dead. If they can control their imaginations, people can literally bring their dreams to life—but most are besieged by fears and nightmares which pursue them relentlessly.

Mackenzie's mother and husband haunt her, driving her to the brink of madness. Then she hears a child call for help and her maternal instincts kick into overdrive. Grant, Mac's ally in the dead spots, insists Johnny is a phantom, but the boy seems so real, so alive....

As the true horrors of the dead spots are slowly revealed, Mackenzie realizes that time is running out. But exits from the dead spots are nearly impossible to find, and defended by things almost beyond imagination.
Praise For Dead Spots…
"Intensely compelling…outstanding." —Publishers Weekly, starred review on The First Days

"An addictive read, full of well-crafted characters and some truly heart-stopping imagery. Keep the tissues handy--Frater knows how to pluck the heartstrings." —Library Journal on Siege

"From literally the first page, Frater pulled me in and never let go." —Book Chick City on The First Days

"Do not start this book if you can't read it nonstop. You won't want to put it down; it's just so damn gripping." —Wicked Little Pixie on Fighting to Survive

"Overall it was a good and bloody tale that had a bit of romance, a bit of insanity, violence, political vengeance and mystery all rolled into one. Isn't it about time you checked out this series, if you haven't already?" —Parajunkee.com on As the World Dies

"I admit freely that I cried like a baby during scenes in this book, and I was so very happy during others. Rhiannon Frater excels at writing emotion into her characters." —Addicted to Heroines on Siege

"The anticipation and terror that follows you throughout this story is incredibly poignant. Frater brought the emotion, the intensity and sorrow, the laughter and love, the rebuilding and remembering, the pain and the tragedy, but at the end of it all, she brought the hope. She delivers big on the most basic of principles: humans need other humans. We are a social species and without the support and love of others, we will never thrive." —Smash Attack Reads on Siege
Tor Books, 9780765337153, 416pp.
Publication Date: February 24, 2015
About the Author
Rhiannon Frater is the author of As the World Dies, which includes The First Days, Fighting to Survive, and Siege, which she originally self-published before substantially revising the books for Tor's publication. The First Days and Fighting to Survive each won the Dead Letter Award from Mail Order Zombie.  Frater has written several other horror novels.  She lives in Texas.