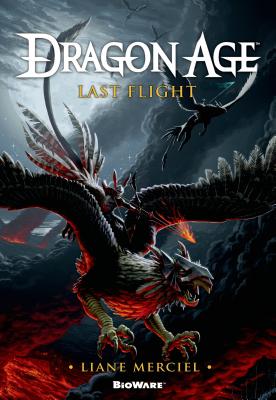 Dragon Age (Paperback)
Last Flight
Tor Books, 9780765337214, 304pp.
Publication Date: September 16, 2014
* Individual store prices may vary.
Description
Return to Thedas, the setting of BioWare's award-winning Dragon Age dark fantasy rpg, and discover what dark, forgotten secrets lurk in the history of the legendary Grey Wardens.
The Grey Wardens are heroes across Thedas once again: the Archdemon has been defeated with relative ease and the scattered darkspawn are being driven back underground. The Blight is over. Or so it seems.
Valya, a young elven mage recently recruited into the Wardens, has been tasked with studying the historical record of previous Blights in order to gain insight into newly reported, and disturbing, darkspawn phenomena. Her research into the Fourth Blight leads her to an encoded reference scrawled in the margins of an ancient map, and to the hidden diary of Issenya, one of the last of the fabled griffon riders. As the dark secrets buried in Isseyna's story unfold, Valya begins to question everything she thought she knew about the heroic Grey Wardens. . . .
A division of Electronic Arts, the world's leading electronic entertainment publisher, BioWare is the award-winning creator of some of the world's best-selling video games, including the Baldur's Gate™ and Neverwinter Nights™ series, Star Wars®: Knights of the Old Republic™ and Mass Effect.
About the Author
As a so-called "Army brat," LIANE MERCIEL grew up in Germany, South Korea, and several different parts of the United States. She is an alumnus of Yale University and the College of William & Mary Law School. She now lives in Philadelphia, where she practices law. Liane is the author of two original fantasy novels, The River King's Road and its sequel, Heaven's Needle, and has written both novels and short works for the Pathfinder rpg.