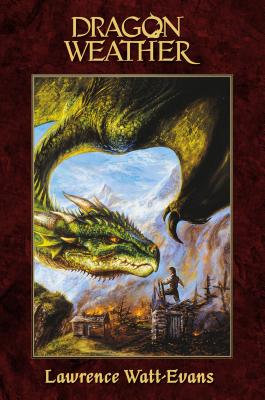 Dragon Weather (Obsidian Chronicles #1) (Paperback)
Tor Books, 9780765337399, 480pp.
Publication Date: January 21, 2014
* Individual store prices may vary.
Description
The first novel in Lawrence Watt-Evans' Obsidian Chronicles, Dragon Weather.

Can one young boy beat the odds to avenge his family's death by dragon?

Arlian had never left his home village on the Smoking Mountain. The stony ground, jagged peaks, and black glass were all he had ever known of life, and though he dreamed of travel and adventure, he knew deep in his heart that he would probably never leave.

Until the dragon weather came. Incredible heat, oppressive humidity, dark and angry clouds . . . and dragons. Dragons with no feelings, no sympathy, no use for humans; dragons who destroyed his entire village and everyone in it. Everyone, that is, except Arlian.

Orphaned and alone, Arlian is captured by looters and sold as a mining slave. Seven years later Arlian escapes, fueled by years of hatred for the dragons, bandits, and slavers that took his youth away--­and a personal vow to exact retribution from those who have wronged him.

As Arlian makes his way through life, he is obsessed with the concept of justice, determined to avenge his family and his village, and that obsession informs every task, every decision. Even Black, the man he befriends and grows to love as a brother, has little influence against Arlian's obsession. His entire life has one purpose, and one purpose only: revenge.

But can one righteous man change the entire world for the better? Or is he doomed by his own actions to become as unjust as those he seeks to destroy?
About the Author
Born and raised in Massachusetts, Lawrence Watt-Evans has been a full-time writer and editor for more than twenty years. The author of more than thirty novels, over one hundred short stories, and more than one hundred and fifty published articles, Watt-Evans writes primarily in the fields of science fiction, fantasy, horror, and comic books. His short fiction has won the Hugo Award as well as twice winning the Asimov's Readers Award. His fiction has been published in England, Germany, Italy, Japan, Spain, Poland, France, Hungary, and Russia
He served as president of the Horror Writers Association from 1994 to 1996 and after leaving that office was the recipient of HWA's first service award ever. He is also a member of Novelists Inc., and the Science Fiction Writers of America. Married with two children, he and his wife Julie live in Maryland.
Praise For Dragon Weather (Obsidian Chronicles #1)…
"This novel showcases the understated excellence readers have come to expect from this durable and (too often) underrated author."—Publishers Weekly
or
Not Currently Available for Direct Purchase