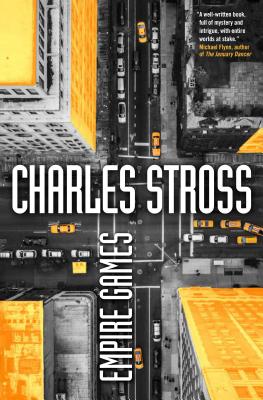 Empire Games (Hardcover)
A Tale of the Merchant Princes Universe
Tor Books, 9780765337566, 336pp.
Publication Date: January 17, 2017
Other Editions of This Title:
Paperback (12/5/2017)
Mass Market Paperbound (12/5/2017)
* Individual store prices may vary.
Description
Charles Stross builds a new series with Empire Games, expanding on the world he created in the Family Trade series, a new generation of paratime travellers walk between parallel universes.
The year is 2020. It's seventeen years since the Revolution overthrew the last king of the New British Empire, and the newly-reconstituted North American Commonwealth is developing rapidly, on course to defeat the French and bring democracy to a troubled world. But Miriam Burgeson, commissioner in charge of the shadowy Ministry of Intertemporal Research and Intelligence—the paratime espionage agency tasked with catalyzing the Commonwealth's great leap forward—has a problem. For years, she's warned everyone: "The Americans are coming." Now their drones arrive in the middle of a succession crisis.
In another timeline, the U.S. has recruited Miriam's own estranged daughter to spy across timelines in order to bring down any remaining world-walkers who might threaten national security.
Two nuclear superpowers are set on a collision course. Two increasingly desperate paratime espionage agencies try to find a solution to the first contact problem that doesn't result in a nuclear holocaust. And two women—a mother and her long-lost daughter—are about to find themselves on opposite sides of the confrontation.
About the Author
Charles Stross is the author of the bestselling Merchant Princes series, the Laundry series, and several stand-alone novels including Glasshouse, Accelerando, and Saturn's Children. Born in Leeds, England, in 1964, Stross studied in London and Bradford, earning degrees in pharmacy and computer science. Over the next decade and a half he worked as a pharmacist, a technical writer, a software engineer, and eventually as a prolific journalist covering the IT industry. His short fiction began attracting wide attention in the late 1990s; his first novel, Singularity Sky, appeared in 2003.  He has subsequently won the Hugo Award twice. He lives with his wife in Edinburgh, Scotland, in a flat that is slightly older than the state of Texas.
Praise For Empire Games: A Tale of the Merchant Princes Universe…
Praise for Empire Games

"The keen eye and what-if imagination of Charles Stross fuel a fresh look at alternate worlds." —David Brin, author of Existence
"A well-written book, full of mystery and intrigue, with entire worlds at stake." —Michael Flynn
"If you like the spy novels of Ian Fleming, or Len Deighton, as I do, but also appreciate a genre twist, then you'll love Empire Games. It is intelligent, entertaining and yet also a little scary." —SFFWorld.com

Praise for The Merchant Princes Series

"Economic science fiction worth reading." —Paul Krugman, Nobel Prize winner and New York Times bestselling author
"Stross is not a writer who aims to leave his readers reassured: One can't tell which way he's going to go, nor whose side he's on. No one beats him at hypertech either." —The Wall Street Journal
"Absorbing." —Kirkus Reviews
"If imagination is the key to success for a writer, Charles Stross has it in spades." —The Times (London) on Charles Stross
or
Not Currently Available for Direct Purchase