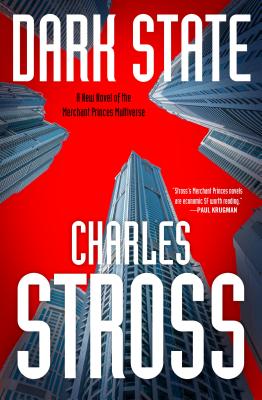 Dark State (Paperback)
A Novel of the Merchant Princes Multiverse (Empire Games, Book II)
Tor Books, 9780765337603, 352pp.
Publication Date: October 22, 2019
Other Editions of This Title:
Digital Audiobook (1/8/2018)
Hardcover (1/9/2018)
* Individual store prices may vary.
Description
Hugo Award-winning author Charlie Stross dives deep into the underbelly of paratime espionage, nuclear warfare, and state surveillance in this provocative techno-thriller set in The Merchant Princes multi-verse

Dark State ups the ante on the already volatile situations laid out in the sleek techno-thriller Empire Games, the start to Stross' new story-line, and perfect entry point for new readers, in The Merchant Princes series.
In the near-future, the collision of two nuclear superpowers across timelines, one in the midst of a technological revolution and the other a hyper-police state, is imminent. In Commissioner Miriam Burgeson's timeline, her top level agents run a high risk extraction of a major political player. Meanwhile, a sleeper cell activated in Rita's, the Commissioner's adopted daughter and newly-minted spy, timeline threatens to unravel everything.
With a penchant for intricate world-building and an uncanny ability to realize alternate history and technological speculation, Stross' writing will captivate any reader who's a fan hi-tech thrillers, inter-dimensional political intrigue, and espionage.
About the Author
Charles Stross is the author of the bestselling Merchant Princes series, the Laundry series, and several stand-alone novels including Glasshouse, Accelerando, and Saturn's Children. Born in Leeds, England, in 1964, Stross studied in London and Bradford, earning degrees in pharmacy and computer science. Over the next decade and a half he worked as a pharmacist, a technical writer, a software engineer, and eventually as a prolific journalist covering the IT industry. His short fiction began attracting wide attention in the late 1990s; his first novel, Singularity Sky, appeared in 2003. He has subsequently won the Hugo Award twice. He lives with his wife in Edinburgh, Scotland, in a flat that is slightly older than the state of Texas.
Praise For Dark State: A Novel of the Merchant Princes Multiverse (Empire Games, Book II)…
"A nightmarish clash of arms, politics, and wills... Tension crackles from every page.... Sheer brilliance: when Stross is in this mood, nobody else comes close." —Kirkus, starred review, on Dark State

"Complexly plotted and with characters to match, Dark State exceeds the promise of Empire Games." —Booklist, starred review
"No one beats [Stross] at hypertech." —The Wall Street Journal on Empire Games
"A well-written book, full of mystery and intrigue, with entire worlds at stake." —Michael Flynn on Empire Games
"If imagination is the key to success for a writer, Charles Stross has it in spades." —The Times (London) on Charles Stross
Praise for The Merchant Princes series
"The keen eye and what-if imagination of Charles Stross fuel a fresh look at alternate worlds."—David Brin
"Charles Stross¹s Merchant Princes novels are economic science fiction worth reading." —Paul Krugman, Nobel Prize winner and New York Times bestselling author
"Great wit and high suspense." —San Francisco Chronicle
"A festival of ideas in action, fast moving and often very funny." —Locus
"A rollicking, pacy read that delivers on the fun." —Interzone