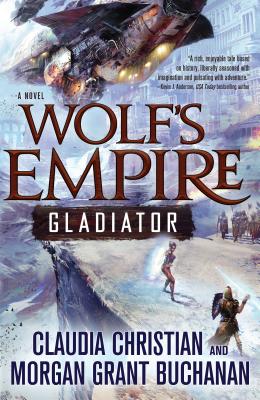 Wolf's Empire
Gladiator: A Novel
Hardcover

* Individual store prices may vary.
Other Editions of This Title:
Paperback (7/3/2017)
Description
In the Galactic Roman Empire, eight noble houses fight for power. One gladiator fights for justice. This is Wolf's Empire: Gladiator, by Claudia Christian and Morgan Grant Buchanan.
When her mother and brother are murdered, young noblewoman Accala Viridius cries out for vengeance. But the empire is being torn apart by a galactic civil war, and her demands fall on deaf ears. Undeterred, Accala sacrifices privilege and status to train as a common gladiator. Mastering the one weapon available to her—a razor-sharp discus that always returns when thrown--she enters the deadly imperial games, the only arena where she can face her enemies.
But Fortune's wheel grants Accala no favors—the emperor decrees that the games will be used to settle the civil war, the indigenous lifeforms of the arena-world are staging a violent revolt, and Accala finds herself drugged, cast into slavery and forced to fight on the side of the men she set out to kill.
Set in a future Rome that never fell, but instead expanded to become a galaxy-spanning empire, Accala's struggle to survive and exact her revenge will take her on a dark journey that will cost her more than she ever imagined.
Praise For Wolf's Empire: Gladiator: A Novel…
"A rich, enjoyable tale based on history, liberally seasoned with imagination and pulsating with adventure." —Kevin J. Anderson, USA Today bestselling author of The Dark Between the Stars
"Combines the violent excesses of gladiatorial combat, alien biotech, the heights of cruelty, and the terrible cost of triumph." —LE Modesitt, New York Times bestselling author of The Heritage of Cyador
"What if Rome never fell, instead conquering the Earth, and expanding its empire to the stars? Awash with political intrigue and breakneck hand-to-hand combat, Wolf's Empire: Gladiator wastes no time, giving us a running start to a lushly-written new alternate history series." —Steven Barnes, co-author of the Dream Park series
"Fascinating . . . We now know that Ancient Rome never died but went on to become a vast galactic empire. This mesmerizing new novel brings its passions and grandeur gloriously back to life." —Thomas Fleming, New York Times bestselling author of The Secret Trial of Robert E. Lee and winner of the Lincoln Prize for Lifetime Achievement in History
"A big, fascinating book -- and it needed every last page to accommodate the vast canvas on which this exciting gladiatorial and high-tech epic is played out." —Mike Resnick, five-time Hugo award winner and author of Santiago
"The story starts big and then keeps opening up, expanding until a galaxy isn't big enough. I stayed up way too late reading it." —Larry Bond, New York Times bestselling author of Fatal Thunder
"An epic, brutal, bloody work of imagination that thrillingly melds the classical traditions of Ancient Rome with Space Age technology." —Cecilia Dart-Thornton, bestselling author of the Bitterbynde series
"If the Roman Empire had never fallen, this would be its science fiction. The empire has expanded into space, powerful families are fighting for power, justice and entertainment are brutal, and Rome is definitely not a democracy. A sweeping vision of a very alien future for humanity." —Sean McMullen, Hugo Award nominee and author of Souls in the Great Machine
Tor Books, 9780765337740, 496pp.
Publication Date: June 28, 2016
About the Author
CLAUDIA CHRISTIAN is an actress, writer, singer, songwriter, director, producer, and voice-over artist. She landed her first TV series at age 18 with NBC's Berringers and her first studio feature at 20 in the cult hit
The Hidden
. Christian went on to star in studio pictures such as
Clean and Sober
with Morgan Freeman and Michael Keaton and in TV shows such as sci-fi megahit
Babylon 5.
More than 50 films and hundreds of TV shows later, Christian has worked with George Clooney, Sharon Stone, Nicolas Cage, and countless other luminaries. She was the voice for Jaguar cars and Helga Sinclair in Disney's
Atlantis
. Christian starred in the new Showtime series
Look
and was recently seen on NBC's
Grimm
. Christian lives in Los Angeles.
MORGAN GRANT BUCHANAN has written comic books, the screenplay for a sci-fi movie, and short stories. He co-authored Babylon Confidential with Claudia Christian and teamed up with her again to write Wolf's Empire: Gladiator, a 250,000 word space opera from Tor Books.
Morgan has been the subject of print media articles and has appeared on television and national radio to discuss writing and his interest in Taoist philosophy and meditation. He lives in Australia, teaches tai chi, and is married to an astrophysicist.
or
Not Currently Available for Direct Purchase