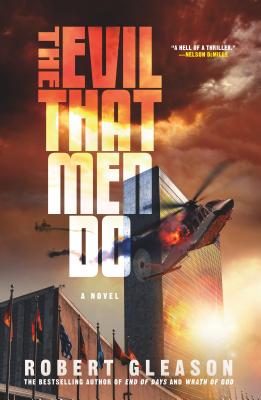 The Evil That Men Do (Hardcover)
Forge Books, 9780765338136, 432pp.
Publication Date: May 8, 2018
Other Editions of This Title:
Digital Audiobook (5/7/2018)
Paperback (1/29/2019)
* Individual store prices may vary.
Description
Robert Gleason brings his A-game to The Evil That Men Do, a terrorism thriller steeped with equal parts terror and wit
Income inequality and the offshore hoarding of illicit black funds have reached such extremes that the earth's democracies are in peril. The oligarchs are taking over. The People worldwide, however, are rising up, and they demand that the UN seize and redistribute all that illegal filthy lucre. But it will not be easy. The world's oligarchs will not go gentle.
Mikhail Putilov, Russia's strongman; J. T. Tower, the American president, and Wahid al-Waheed, the Saudi Ambassador to the US will do anything to stop and destroy this global expropriation moment—even if it means nuking the UN. Only three people can stop them: the crusading, muckraking, investigative journalist, Jules Meredith; ex-CIA agent, Elena Moreno; and her boyfriend, the ex-Special Forces Operative turned cybersecurity billionaire, John C. Jameson. If these three fail, democracies around the world will die; and the Age of the Great Global Oligarchs will begin.
If these the three friends fail, the nuclear fireballs will blaze, the UN will burn, and a New Dark Ages will ensue. People everywhere must hold their breath and wait.
About the Author
Robert Gleason, author of End of Days, has worked for 40 years in the New York book industry, where he has published many scientists, politicians and military experts. He starred in and hosted a two-hour History Channel special, largely devoted to nuclear terrorism and has discussed the subject on many national TV/radio talk shows, including Sean Hannity's and Lou Dobbs's TV shows and George Noory's Coast to Coast AM. He has also spoken on nuclear terrorism at major universities, including Harvard.
Praise For The Evil That Men Do…
"Stunningly effective . . . Echoing the best of Tom Clancy . . . Superb in all respects." —Sunday Providence Journal
"The Evil That Men Do is a roiling, in-your-face thriller . . . all narrated in a fiery prose that eagerly details love scenes, torture scenes, and the explosive finale. Enjoy the action." —Booklist
"A hell of a thriller." —Nelson DeMille, #1 New York Times bestselling author
"Entertaining beyond all measure . . . a pulse-pounding page-turner." —Douglas Preston, #1 New York Times bestselling author of The Kraken Project
"Like always, Gleason stays ahead of the pack, firing on all cylinders, with a take-no-prisoners attitude. This one isn't inspired by the headlines, it is the headlines." —Steve Berry, New York Times bestselling author
"Fierce, bitter . . . a bloodcurdling thriller, written with a kind of headlong verbal velocity that makes it impossible to put down." —William Martin, New York Times bestselling author
"As bold a book as you'll find this year. Gleason writes with tremendous energy, flair and velocity of the plot. With its devilish characterizations and insider savvy, this novel competes easily with the most vivid headlines of our time. A lion's roar of a book!" —Ralph Peters, three-time winner of the Boyd Award and the New York Times bestselling author of Judgment at Appomattox
"A nerve-fraying, throat-clutching, keep-you-up-all-night thriller, it is a work of fiction forged in hell!" —William Cohen, former US Defense Secretary and New York Times bestselling author of Final Strike
"Robert Gleason is a legend among thriller writers and fans, and The Evil That Men Do is an outrageous tour-de-force." —James Grady, New York Times bestselling author of Six Days of the Condor
"A pulse-pounding, heart-stopping roller coaster of a ride." —Ward Larsen, USA Today bestselling author and winner of six major book awards
or
Not Currently Available for Direct Purchase