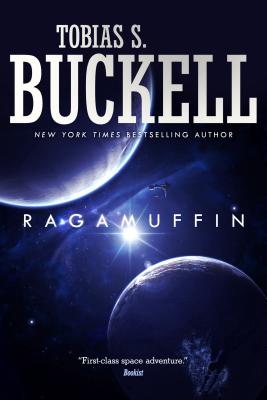 Ragamuffin (Paperback)
A Novel
Tor Books, 9780765338419, 320pp.
Publication Date: March 17, 2015
Other Editions of This Title:
Mass Market Paperback (6/3/2008)
Hardcover (6/12/2007)
* Individual store prices may vary.
Description
Tobias S. Buckell is well known as the New York Times bestselling author of Halo: The Cole Protocol. Tor is now proud to reintroduce Buckell's first science fiction novels to his many fans in handsome trade paperback editions featuring stunning new cover art.
In a universe run by alien tyrants, humanity faces its greatest threat—systematic extermination. The Benevolent Satrapy, the universe's overlords, has placed a stranglehold on all technology, sending its stormtroopers to destroy any civilization foolish enough to defy them.
The Ragamuffins are pirates and smugglers plying the lonely spaceways around a dead wormhole. For years the Satrapy has tolerated them, but no longer. The aliens are determined to wipe out the unruly humans once and for all, and the Ragamuffins now face a campaign of extermination.
But one runaway woman may complicate the aliens' plans. Surgically altered, Nashara is more machine than flesh, and she carries inside her a doomsday weapon that could reduce the entire galaxy to chaos. But, all she wants to do is make it home before she's forced to destroy civilization—and herself….
About the Author
Tobias S. Buckell is the author of several novels including Halo: The Cole Protocol, Arctic Rising, Sly Mongoose, Ragamuffin, and Crystal Rain. His books have been finalists for the Nebula Award, the Prometheus Award, and the Romantic Times Award for Best Science Fiction Novel. He hails from the Caribbean, where as a child he lived on boats in Grenada and the British and U.S. Virgin Islands. When he was a teenager, his family moved to Ohio after a series of hurricanes destroyed the boat they were living on, and he attended Bluffton University in Bluffton, Ohio, where he still lives today. Buckell fell in love with science fiction at a young age, reading Arthur C. Clarke and Isaac Asimov novels when he was seven years old. He is now a full-time author and freelancer.
Praise For Ragamuffin: A Novel…
"First-class space adventure, with tip-top characterization, action, and world-building." —Booklist
"A somewhat dark look at a future where humans are way down in the galactic food chain and scuffling to survive. All in all, Ragamuffin is a winner." —San Jose Mercury News
"Ragamuffin establishes the author as a signature voice of Afro-Caribbean speculative fiction." —Library Journal
"Ragamuffin provides plenty of gun play and close calls for the heroes. A lot of fun." —Publishers Weekly
or
Not Currently Available for Direct Purchase