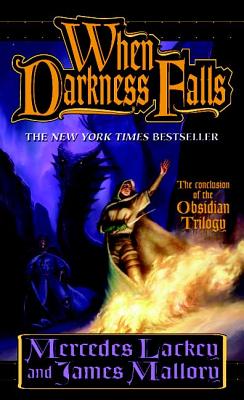 When Darkness Falls (Mass Market Paperbound)
Tor Books, 9780765341433, 602pp.
Publication Date: May 1, 2007
* Individual store prices may vary.
or
Not Currently Available for Direct Purchase
Description
When Darkness Falls, the third book in The Obsidian Trilogy from Mercedes Lackey and James Mallory
A great working of Wild Magic and High Magic strikes at the heart of the Demon Queen's plots, but the human city, the Golden City of the Bells, falls farther under her sway with each day that passes. And without the City's High Magicians, the Wild Magicians, the Elven Army, and all their allies will surely fall before the onslaught of the Demon Queen's malignant warriors.
But all hope is not lost. The Light's young mages, tempered by war, grow ever more powerful. High Mage Cilarnen learns an ancient secret that can make him, for a brief, white-hot time, the greatest mage in the world--unless it kills him.
Jermayan, the first Elf-Mage in centuries, has linked with the dragon Ancaladar and rediscovered the swift-as-thought powers of Elven magic, which can reshape mountains and summon lightning from clear skies.
Knight-Mage Kellen has molded his troops and the Unicorn Knights into a deadly fighting force. Soon the Elven King and his Commanders put Kellen's magical gifts to their greatest test, in the final battle between the Elves, the humans, and the Demons.
About the Author
Mercedes Lackey is the author of the bestselling Valdemar series, and the Tales of the Five Hundred Kingdoms, and, also with James Mallory, the Enduring Flame trilogy (The Phoenix Unchained, The Phoenix Endangered, and The Phoenix Transformed). She has written many other books, including Trio of Sorcery, Phoenix and Ashes, Sacred Ground, The Firebird, The Fairy Godmother, and Alta. Lackey is the co-author, with Andre Norton, of the Halfblood Chronicles, including Elvenborn. Mercedes Lackey was born in Chicago and graduated from Purdue University. She has worked as an artist's model, a computer programmer, and for American Airlines, and has written lyrics and recorded more than fifty songs. She lives in Oklahoma.James Mallory is author of the three-part novelization of the Hallmark Merlin miniseries: The Old Magic, The King's Wizard, and The End of Magic. He was born in San Francisco and attended schools in California and the Midwest, before moving to New York to pursue a career in writing. From an early age, he has been fascinated with the Arthurian legends, an avocation which triggered a lifelong interest in fantasy literature. He lives in California.
Praise For When Darkness Falls…
"Intelligent storytelling with an unmistakable flavor of Andre Norton at her best."--Publishers Weekly on When Darkness Falls
 
 "Plenty of good-versus-evil action."--VOYA on When Darkness Falls
 
"Panoramic . . . filled with magic, dragons, elves, and other mythical creatures."--Library Journal on To Light a Candle
 
"Captivating."--Publishers Weekly on The Outstretched Shadow
 
"Delightful."--Booklist on The Outstretched Shadow
Advertisement