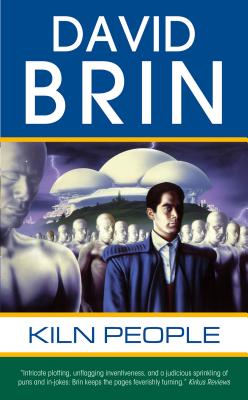 Kiln People (The Kiln Books #1) (Paperback)
Tor Science Fiction, 9780765342614, 576pp.
Publication Date: January 20, 2003
Other Editions of This Title:
MP3 CD (5/3/2016)
* Individual store prices may vary.
Description
In a perilous future where disposable duplicate bodies fulfill every legal and illicit whim of their decadent masters, life is cheap. No one knows that better than Albert Morris, a brash investigator with a knack for trouble, who has sent his own duplicates into deadly peril more times than he cares to remember.
But when Morris takes on a ring of bootleggers making illegal copies of a famous actress, he stumbles upon a secret so explosive it has incited open warfare on the streets of Dittotown.
Dr. Yosil Maharal, a brilliant researcher in artificial intelligence, has suddenly vanished, just as he is on the verge of a revolutionary scientific breakthrough. Maharal's daughter, Ritu, believes he has been kidnapped-or worse. Aeneas Polom, a reclusive trillionaire who appears in public only through his high-priced platinum duplicates, offers Morris unlimited resources to locate Maharal before his awesome discovery falls into the wrong hands.
To uncover the truth, Morris must enter a shadowy, nightmare world of ghosts and golems where nothing -and no one-is what they seem, memory itself is suspect, and the line between life and death may no longer exist.
David Brin's Kiln People is a 2003 Hugo Award Nominee for Best Novel.
About the Author
David Brin is a scientist, speaker, technical consultant and world-known author. His books include The Uplift Saga, Kiln People, and Existence, and his novels have been New York Times bestsellers, winning multiple Hugo, Nebula, and other awards. Brin lives near San Diego, California, with his wife and their three children.
Praise For Kiln People (The Kiln Books #1)…
"David Brin delivers what science fiction readers want-intelligence, action, and an epic scale" —Asimov's Science Fiction
"David Brin is a skillful storyteller . . . His novels brim with invention, and there is more than enough action to keep the story exciting." —The Cleveland Plain Dealer
"Intricate plotting, unflagging inventiveness, and a judicious sprinkling of puns and in-jokes: Brin keeps the pages feverishly turning." —Kirkus Reviews
"Brin presents a rich, kaleidoscopic story that challenges the concepts of identity and individuality." —Library Journal
"Brin deftly explores the issues of identity, privacy and work . . . the book features the author's usual style, with a lighter touch and punish humor abounding amid the hard SF speculation." —Publisher's Weekly
"More than any writer I know, David Brin can take scary, important problems and turn them sideways, revealing wonderful opportunities. This talent shows strongly in Kiln People, a novel which is deep and insightful and often hilarious, all at the same time." —Vernor Vinge
or
Not Currently Available for Direct Purchase