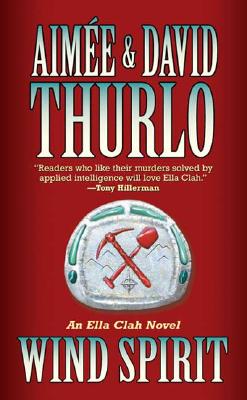 Wind Spirit (Mass Market Paperback)
An Ella Clah Novel
Forge Books, 9780765343970, 320pp.
Publication Date: February 24, 2005
* Individual store prices may vary.
Description
When an arson fire claims the life of the wife of a Navajo Councilmember who spearheaded gun control measures, tensions flare throughout the Rez. Navajo Police Special Investigator Ella Clah's search for the killers is hampered by what happened to her a few days earlier.

That day, Ella had acted quickly when an underground explosion triggered the collapse of an abandoned mineshaft. Seeing a child sliding into an exposed tunnel, Ella saved his life but was trapped underground for several frightening, airless minutes.

Ella's brother Clifford, a Navajo medicine man, believes that Ella died and that his hataalii abilities showed her wandering wind spirit the way back to her body. Traditionalist Navajo are reluctant to speak to Ella, fearing that she has been contaminated with chindi and become evil. Even some of her fellow police officers are uncomfortable in Ella's presence.

Undaunted, Ella continues her quest for justice. But she knows that her experiences underground have changed her permanently. Perhaps she will find a new way to walk in beauty . . . .
About the Author
Aimee and David Thurlo are the authors of the Ella Clah series, of which "White Thunder" is the tenth volume, of the Lee Nez series of Navajo vampire mysteries, and of the Sister Agatha novels, mysteries featuring a nun. Their other works include" Plant Them Deep," a novel featuring Rose Destea, the mother of Ella Clah, and "The Spirit Line," a young adult novel.

David was raised on the Navajo Reservation and taught school there until his recent retirement. Aimee, a native of Cuba, has lived in the US for many years. They live in Corrales, New Mexico, and often make appearances at area bookstores.
Praise For Wind Spirit: An Ella Clah Novel…
"A hair-raising opening. The Thurlos hit all the right notes." --Booklist on Wind Spirit

"Gripping. The Thurlo team brings the tensions inherent in Navajo life alive by showing the myriad ways in which the tribe's traditionalists conflict with the progressives. The Thurlos also focus on how modern crime investigation conflicts with the Navajo belief in chindi, or the evil that remains at death scenes and must be avoided. A spirited blend of Navajo culture and police procedure."--Booklist (starred review) on Tracking Bear

"Tracking Bear is a great police procedural that gives readers an insightful look into the culture of the Navajo living on the reservation today. The who-done-it is complex, compelling and exciting."--Midwest Book Review

"Realistic, fast-paced, and intense. Action scenes keep the plot moving at a quick pace with some surprises along the way, adding to the excitement."
--School Library Journal on Changing Woman

"Red Mesa is an engrossing mystery as intricately woven as a fine Navajo rug. It kept me guessing to the end."
--New York Times bestselling author Margaret Coel

"A fascinating story. Ella Clah, strong and vulnerable at the same time, is an intriguing character of great depth, and the surprise ending will delight all mystery lovers."
--Romantic Times on Red Mesa

"An intense, spellbinding family drama in which the battle between good and evil affects both modernist and traditionalist Navajo. Prime reading for fans of Tony Hillerman and other Southwestern mysteries."--Library Journal on Red Mesa




"A hair-raising opening. The Thurlos hit all the right notes."
or
Not Currently Available for Direct Purchase