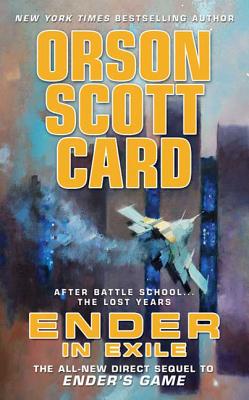 Ender in Exile (The Ender Saga #5)
Mass Market

* Individual store prices may vary.
Other Editions of This Title:
Digital Audiobook (11/10/2008)
Hardcover (11/11/2008)
Paperback (9/7/2021)
Mass Market (8/24/2021)
Paperback (9/17/2013)
Description
After twenty-three years, Orson Scott Card returns to his acclaimed best-selling series with the first true, direct sequel to the classic Ender's Game.

In Ender's Game, the world's most gifted children were taken from their families and sent to an elite training school. At Battle School, they learned combat, strategy, and secret intelligence to fight a dangerous war on behalf of those left on Earth. But they also learned some important and less definable lessons about life.
After the life-changing events of those years, these children—now teenagers—must leave the school and readapt to life in the outside world.

Having not seen their families or interacted with other people for years—where do they go now? What can they do?

Ender fought for humanity, but he is now reviled as a ruthless assassin. No longer allowed to live on Earth, he enters into exile. With his sister Valentine, he chooses to leave the only home he's ever known to begin a relativistic—and revelatory—journey beyond the stars.

What happened during the years between Ender's Game and Speaker for the Dead? What did Ender go through from the ages of 12 through 35? The story of those years has never been told. Taking place 3000 years before Ender finally receives his chance at redemption in Speaker for the Dead, this is the long-lost story of Ender.

For twenty-three years, millions of readers have wondered and now they will receive the answers. Ender in Exile is Orson Scott Card's moving return to all the action and the adventure, the profound exploration of war and society, and the characters one never forgot.

On one of these ships, there is a baby that just may share the same special gifts as Ender's old friend Bean…

THE ENDER UNIVERSE

Ender series
Ender's Game / Ender in Exile / Speaker for the Dead / Xenocide / Children of the Mind

Ender's Shadow series
Ender's Shadow / Shadow of the Hegemon / Shadow Puppets / Shadow of the Giant / Shadows in Flight

Children of the Fleet

The First Formic War (with Aaron Johnston)
Earth Unaware / Earth Afire / Earth Awakens

The Second Formic War (with Aaron Johnston)
The Swarm /The Hive

Ender novellas
A War of Gifts /First Meetings
Praise For Ender in Exile (The Ender Saga #5)…
"An affecting novel full of surprises." —The New York Times Book Review on Ender's Game

"The novels of Orson Scott Card's Ender series are an intriguing combination of action, military and political strategy, elaborate war games and psychology." —USA Today

"Card's prose is powerful here, as is his consideration of mystical and quasi-religious themes. Though billed as the final Ender novel, this story leaves enough mysteries unexplored to justify another entry; and Card fans should find that possibility, like this novel, very welcome indeed. " —Publishers Weekly (starred review) on Children of the Mind

"Orson Scott Card made a strong case for being the best writer science fiction has to offer." —The Houston Post on Xenocide

"There aren't too many recent sf novels we can confidently call truly moral works, but Speaker for the Dead is one. It's a completely gripping story." —The Toronto Star

"An undeniable heavyweight . . . This book combines Card's quirky style with his hard ethical dilemmas and sharply drawn portraits." —New York Daily News on Ender's Game

"This is Card at the height of his very considerable powers--a major SF novel by any reasonable standard." —Booklist on Ender's Game
Tor Science Fiction, 9780765344151, 480pp.
Publication Date: December 29, 2009
About the Author
Orson Scott Card is best known for his science fiction novel Ender's Game and its many sequels that expand the Ender Universe into the far future and the near past. Those books are organized into the Ender Saga, which chronicles the life of Ender Wiggin; the Shadow Series, which follows on the novel Ender's Shadow and is set on Earth; and the Formic Wars series, written with co-author Aaron Johnston, which tells of the terrible first contact between humans and the alien "Buggers." Card has been a working writer since the 1970s. Beginning with dozens of plays and musical comedies produced in the 1960s and 70s, Card's first published fiction appeared in 1977--the short story "Gert Fram" in the July issue of The Ensign, and the novelette version of "Ender's Game" in the August issue of Analog. The novel-length version of Ender's Game, published in 1984 and continuously in print since then, became the basis of the 2013 film, starring Asa Butterfield, Harrison Ford, Ben Kingsley, Hailee Steinfeld, Viola Davis, and Abigail Breslin.

Card was born in Washington state, and grew up in California, Arizona, and Utah. He served a mission for the LDS Church in Brazil in the early 1970s. Besides his writing, he runs occasional writers' workshops and directs plays. He frequently teaches writing and literature courses at Southern Virginia University.

He is the author many science fiction and fantasy novels, including the American frontier fantasy series "The Tales of Alvin Maker" (beginning with Seventh Son), and stand-alone novels like Pastwatch and Hart's Hope. He has collaborated with his daughter Emily Card on a manga series, Laddertop. He has also written contemporary thrillers like Empire and historical novels like the monumental Saints and the religious novels Sarah and Rachel and Leah. Card's work also includes the Mithermages books (Lost Gate, Gate Thief), contemporary magical fantasy for readers both young and old.

Card lives in Greensboro, North Carolina, with his wife, Kristine Allen Card. He and Kristine are the parents of five children and several grandchildren.
or
Not Currently Available for Direct Purchase