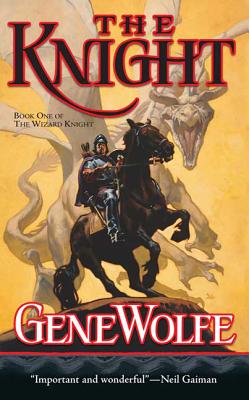 The Knight (Paperback)
Book One of The Wizard Knight
Tor Fantasy, 9780765347015, 544pp.
Publication Date: August 1, 2005
Other Editions of This Title:
Digital Audiobook (9/17/2018)
Paperback (1/1/2005)
Hardcover (1/1/2004)
* Individual store prices may vary.
Description
A young man in his teens is transported from our world to a magical realm that contains seven levels of reality. Very quickly transformed by magic into a grown man of heroic proportions, he takes the name Able and sets out on a quest to find the sword that has been promised to him, a sword he will get from a dragon, the one very special blade that will help him fulfill his life ambition to become a knight and a true hero.
Inside, however, Able remains a boy, and he must grow in every sense to survive the dangers and delights that lie ahead in encounters with giants, elves, wizards, and dragons. His adventure will conclude in the second volume of The Wizard Knight, The Wizard.
With this new series, Wolfe not only surpasses all the most popular genre writers of the last three decades, he takes on the legends of the past century, in a work that will be favorably compared with the best of J. R. R. Tolkien, E. R. Eddison, Mervyn Peake, and
T. H. White. This is a book---and a series---for the ages, from perhaps the greatest living writer in (or outside) the fantasy genre.
About the Author
Gene Wolfe is one of the most admired and respected living writers of SF and fantasy. He is the author of The Fifth Head of Cerberus, the bestselling The Book of the New Sun tetralogy, as well as among many others including Soldier of the Mist, The Sorcerer's House, Home Fires, The Knight, The Wizard, Peace, and The Book of the Long Sun. He is also a prolific writer of distinguished short fiction, which is collected in many volumes over the last four decades, including The Best of Gene Wolfe. He received the World Fantasy Award for Life Achievement, the Edward E. Smith Memorial Award, and multiple Nebula and Locus awards, among other honors. In 2007, he was inducted into the Science Fiction Hall of Fame. In 2012, he was awarded the Science Fiction and Fantasy Writers of America Grand Master Award. He lives in Barrington, Illinois.
Praise For The Knight: Book One of The Wizard Knight…
"Gene Wolfe not only entertains, he invests his work with a complexity and trickiness that place him among the most important American writers of our time. . . . But you don't need to know Wolfe's earlier work to be caught up in a novel that blends, imaginatively and briskly, Arthurian ideals, Celtic legends, and Norse mythology." —The Washington Post
"Wolfe's new novel - the first half of a massive epic - is a reminder that no one gets called a great writer without being first a great storyteller. [In] this wonderful story . . .Wolfe doesn't just rearrange the clichés of sword and sorcery fiction; he recreates the genre. . . . this is a compelling, breathtaking achievement." —Publishers Weekly [starred review]
"That national treasure, Gene Wolfe, returns with the first of two novels about a teenage boy who wanders into what may be called Faerie. . . . [Wolfe's] wit, erudition, narrative technique, and consummate mastery of the language sweep all before them . . . in this extraordinary book." —Booklist
or
Not Currently Available for Direct Purchase