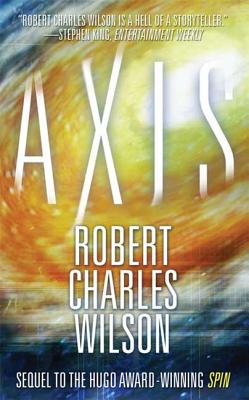 Axis (Spin #2) (Paperback)
Tor Science Fiction, 9780765348265, 368pp.
Publication Date: June 3, 2008
Other Editions of This Title:
Digital Audiobook (3/17/2008)
Paperback (6/3/2008)
* Individual store prices may vary.
Description
Wildly praised by readers and critics alike, Robert Charles Wilson's Spin won science fiction's highest honor, the Hugo Award for Best Novel.
Now, in Axis, Spin's direct sequel, Wilson takes us to the "world next door"—the planet engineered by the mysterious Hypotheticals to support human life, and connected to Earth by way of the Arch that towers hundreds of miles over the Indian Ocean. Humans are colonizing this new world—and, predictably, fiercely exploiting its resources, chiefly large deposits of oil in the western deserts of the continent of Equatoria.
Lise Adams is a young woman attempting to uncover the mystery of her father's disappearance ten years earlier. Turk Findley is an ex-sailor and sometimes-drifter. They come together when an infall of cometary dust seeds the planet with tiny remnant Hypothetical machines. Soon, this seemingly hospitable world will become very alien indeed—as the nature of time is once again twisted, by entities unknown.
About the Author
Robert Charles Wilson was born in California and lives in Toronto. His novel Spin won science fiction's Hugo Award in 2006. Earlier, he won the Philip K. Dick Award for his debut novel A Hidden Place; Canada's Aurora Award for Darwinia; and the John W. Campbell Award for The Chronoliths.
Praise For Axis (Spin #2)…
"I'm not a big science-fiction fan, but I'll read anything with a story and a low geek factor. Wilson is a hell of a storyteller, and the geek factor in his books is zero. Like Battlestar Galactica on TV, this is SF that doesn't know it's SF…There's plenty of imagination here, as well as character and heart." —Stephen King on Spin
"The long-anticipated marriage between the hard sf novel and the literary novel, resulting in an offspring possessing the robust ideational vigor of the former with the graceful narrative subtleties of the latter, might finally have occurred in the form of Robert Charles Wilson's Spin.…Wilson does so many fine things, it's hard to know where to begin to praise him." —The Washington Post
"An astonishingly successful mélange of SF thriller, growing-up saga, tender love story, father-son conflict, ecological parable and apocalyptic fable in prose that sings the music of the spheres." —Publishers Weekly (starred review) on Spin
"Robert Charles Wilson is one of the best science-fiction writers alive--a fact borne out in his latest work….Spin is the best science-fiction novel so far this year." —Rocky Mountain News
"Wide-ranging and well-crafted….Wilson's most ambitious and most successful novel to date." —San Diego Union-Tribune on Spin
"Spin is many things: psychological novel, technological thriller, apocalyptic picaresque, cosmological meditation. But it is, foremost, the first major SF novel of 2005, another triumph for Robert Charles Wilson in a long string of triumphs." —Locus
or
Not Currently Available for Direct Purchase