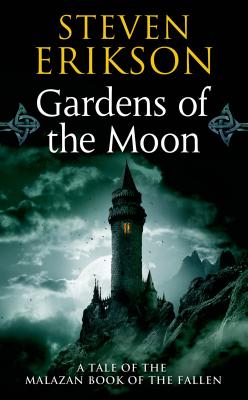 Gardens of the Moon
Book One of The Malazan Book of the Fallen
Mass Market

* Individual store prices may vary.
Other Editions of This Title:
Digital Audiobook (9/17/2012)
Paperback (5/12/2009)
MP3 CD (5/6/2014)
Hardcover (5/12/2009)
Compact Disc (9/1/2012)
MP3 CD (9/18/2012)
Compact Disc (9/2/2013)
Compact Disc (9/18/2012)
MP3 CD (9/18/2012)
Description
Vast legions of gods, mages, humans, dragons and all manner of creatures play out the fate of the Malazan Empire in this first book in a major epic fantasy series

The Malazan Empire simmers with discontent, bled dry by interminable warfare, bitter infighting and bloody confrontations with the formidable Anomander Rake and his Tiste Andii, ancient and implacable sorcerers. Even the imperial legions, long inured to the bloodshed, yearn for some respite. Yet Empress Laseen's rule remains absolute, enforced by her dread Claw assassins.

For Sergeant Whiskeyjack and his squad of Bridgeburners, and for Tattersail, surviving cadre mage of the Second Legion, the aftermath of the siege of Pale should have been a time to mourn the many dead. But Darujhistan, last of the Free Cities of Genabackis, yet holds out. It is to this ancient citadel that Laseen turns her predatory gaze.

However, it would appear that the Empire is not alone in this great game. Sinister, shadowbound forces are gathering as the gods themselves prepare to play their hand...

Conceived and written on a panoramic scale, Gardens of the Moon is epic fantasy of the highest order--an enthralling adventure by an outstanding new voice.
Praise For Gardens of the Moon: Book One of The Malazan Book of the Fallen…
"Erikson is an extraordinary writer. My advice to anyone who might listen to me is, Treat yourself to Gardens of the Moon. And my entirely selfish advice to Steven Erikson is, write faster." —Stephen R. Donaldson

"I stand slack-jawed in awe of The Malazan Book of the Fallen. This masterwork of imagination may be the high water mark of epic fantasy. This marathon of ambition has a depth and breadth and sense of vast reaches of inimical time unlike anything else available today. The Black Company, Zelazny's Amber, Vance's Dying Earth, and other mighty drumbeats are but foreshadowings of this dark dragon's hoard." —Glen Cook
Tor Fantasy, 9780765348784, 688pp.
Publication Date: January 10, 2005
About the Author
Steven Erikson is an archaeologist and anthropologist and a graduate of the Iowa Writers' Workshop. His Malazan Book of the Fallen series, including The Crippled God, Dust of Dreams, Toll the Hounds and Reaper's Gale, have met with widespread international acclaim and established him as a major voice in the world of fantasy fiction. The first book in the series, Gardens of the Moon, was shortlisted for a World Fantasy Award. The second novel, Deadhouse Gates, was voted one of the ten best fantasy novels of 2000 by SF Site. He lives in Canada.