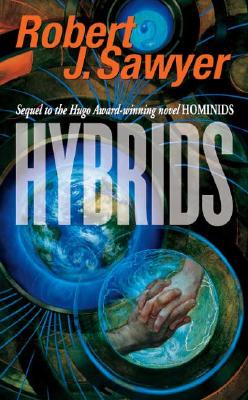 Hybrids
Mass Market Paperbound

* Individual store prices may vary.
Other Editions of This Title:
Paperback (9/28/2010)
MP3 CD (9/1/2015)
Hardcover (10/28/2004)
MP3 CD (10/23/2012)
MP3 CD (10/23/2012)
Compact Disc (10/23/2012)
Compact Disc (10/30/2012)
Description
In the Hugo-Award winning "Hominids," Robert J. Sawyer introduced a character readers will never forget: Ponter Boddit, a Neanderthal physicist from a parallel Earth who was whisked from his reality into ours by a quantum-computing experiment gone awry - making him the ultimate stranger in a strange land.
In that book and in its sequel, "Humans," Sawyer showed us the Neanderthal version of Earth in loving detail - a tour de force of world-building; a masterpiece of alternate history.
Now, in "Hybrids," Ponter Boddit and his Homo sapiens lover, geneticist Mary Vaughan, are torn between two worlds, struggling to find a way to make their star-crossed relationship work. Aided by banned Neanderthal technology, they plan to conceive the first hybrid child, a symbol of hope for the joining of their two versions of reality.
But after an experiment shows that Mary's religious faith - something completely absent in Neanderthals - is a quirk of the neurological wiring of Homo sapiens brains, Ponter and Mary must decide whether their child should be predisposed to atheism or belief. Meanwhile, as Mary's Earth is dealing with a collapse of its planetary magnetic field, her boss, the enigmatic Jock Krieger, has turned envious eyes on the unspoiled Eden that is the Neanderthal world . . .
Hybrids is filled to bursting with Sawyer's signature speculations about alternative ways of being human, exploding our preconceptions of morality and gender, of faith and love. His Neanderthal Parallax trilogy is a classic in the making, and here he brings it to a stunning, thought-provoking conclusion that's sure to make "Hybrids" one of the most controversial books of the year.
Praise For Hybrids…
"Some of the most outrageous, stimulating speculation since Robert A. Heinlein's Stranger in a Strange Land questioned our tired, timid conventions."



"A fine combination of love story, social commentary, and ecothriller closes a terrific series with a bang."[Starred Review]



"Sawyer fashions a consistent, engaging, logical history and society for his Neanderthals. . . . All in all, it's an anthropological creation worthy of Le Guin."
Tor Books, 9780765349064, 400pp.
Publication Date: November 1, 2004
About the Author
Robert J. Sawyer is the author of the Neanderthal Parallax series, including the Hugo Award-winning "Hominids," and "Humans." He won the Nebula Award for "The Terminal Experiment" and the Aurora Award for "FlashForward," basis for the ABC TV series. He is also the author of the WWW series "Wake," "Watch" and "Wonder" and many other books. He was born in Ottawa and lives in Toronto."