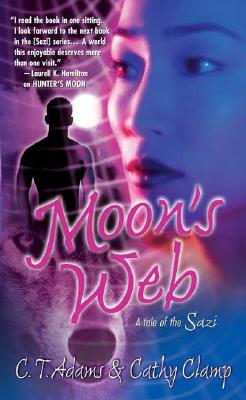 Moon's Web (Mass Market Paperbound)
Tor Books, 9780765349149, 352pp.
Publication Date: August 1, 2005
* Individual store prices may vary.
Description
Tony Giodone made his living as an assassin--until one of his marks ripped his throat out and turned him into a werewolf. Now he's the best hired killer there is.
When a curvy woman in an expensive suit tries to hire him to kill her, his wolf senses insist that she is his mate. One kidnapping, a plethora of gunfights, a psychic coma, and two faked deaths later, Tony and Sue have new identities and are hiding in a community of Sazi shapeshifters. All seems well, until Sue begins to pull away from Tony and he realizes that if he can't be more open with her, he's going to lose her.
To add to his problems, Tony is getting flashes of other peoples' lives. He doesn't know if they're memories or fantasies--but he wants it to stop, because he's learning things he shouldn't about his friends and neighbors.
What's more dangerous than a psychic-powered werewolf assassin? Whatever it is, it's kidnapping and killing female Sazi . . . after it sucks out their powers. Its latest captive is the girlfriend of Carmine, the Mafia don who used to be Tony's boss. To get her back, Carmine will make war on all the Sazi--and while the Sazi would win, they can't afford to be exposed to humans.
Now it's up to Tony to save Carmine's girlfriend--and all of the Sazi.
About the Author
Cathy Clamp was thirty-five when the fiction writing bug bit her. Although always a competent legal and technical writer, the idea muse ignored her completely. It wasn't until she met future friend and partner Cie Adams that things began to click. Her friend's brain was the idea muse's nesting site! Cie was blessed (or some would say cursed) with one or more full book plots a day! Cathy quickly realized where her bread was buttered. She did learn she possessed a skill in writing romance and action scenes, while her partner concocted storylines and richly diverse characters. Within eighteen months of the start of their partnership, they had written five books, and now have two accepted for publication! Cathy lives outside of Brady, TX, with her husband, Don, (also a brilliantly gifted idea man for suspense and espionage) and their four dogs.C.T. Adams happily resides in Texas with a teenage son and pet cats. Office work provided a living while she pursued the goal of becoming a novelist. Forming the partnership with Cathy was the catalyst that led to publication. Cie provides a wildly vivid imagination, while Cathy's brilliant execution (pun intended, she writes vicious action scenes), editing, and business acumen gives the partnership the impetus to get writing projects off of the "drawing board" and into the hands of the readers. The partners have two books currently accepted for publication. They look forward to a long and happy collaborative relationship, having plans for two multi-book series and several individual works on their way to completion.
Praise For Moon's Web…
"I read the book in one sitting. I look forward to the next book in the series, because it has to be the beginning of a series. A world this enjoyable deserves more than one visit. This book has some new twists in the werewolf's tail that were very cool."--Laurell K. Hamilton on Hunter's Moon

"An amazing, cutting edge paranormal adventure. . . I couldn't help but compare the first person, male narrative style to Mickey Spillane. Men will especially enjoy this fast-paced action/adventure paranormal, and women will be enthralled by the incredible, deftly written love-making scenes. I will anxiously await the next installment. Tony's character is just too unique, and too darn SEXY to stop with only one book. This has earned a spot on my keeper shelf!"--Tess Mallory on Hunter's Moon

"Talk about your perfect anti-hero! Tony Giodone is in a class by himself. This incredible novel is inventive, totally riveting as well as surprisingly tender in spots. Adams and Clamp are a powerhouse team that have opened the door to an amazing new world."-Romantic Times, 4 ½ Stars, Top Pick on Hunter's Moon

"At first glance, HUNTER'S MOON might seem like any other suspense tale with shades of the paranormal. But that would be wrong -- this book is so much more than the standard. It is fast-paced, gritty, and just plain gripping."--Romance Reviews Today on Hunter's Moon

"HUNTER'S MOON is a highly original werewolf story. If you enjoy werewolf stories, with a totally unique perspective look at the origination of the shapeshifter society, you don't want to miss this one!"--Reviewers International/ParaNormal Romance Reviews on Hunter's Moon

"There is excitement on every page as Ms. Clamp and Ms. Adams give depth to their characters. The pages steam with passion between Tony and Sue as they find each other. This is definitely a keeper."--Love Romance/The Best Reviews (Five Hearts) on Hunter's Moon
or
Not Currently Available for Direct Purchase