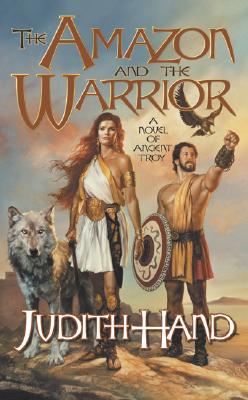 The Amazon and the Warrior
Mass Market Paperback

* Individual store prices may vary.
Description
The Legend of Penthesilea, Queen of the Amazons
For eight years, the besieged city of Troy has withstood the relentless might of the Greek invaders. Now the dread Achilles, mightiest of the Greek warriors, seeks to conquer the fabled realm of the Amazons as well. But one woman stands between him and his ruthless ambition to conquer her homeland.
Penthesilea, Warrior Queen of the Amazons, watched her mother die upon Achilles' sword. A fiery, red-haired tigress of tremendous passion and courage, Pentha vows to take revenge on the legendary Greek champion, even if it means leading an army in defense of imperiled Troy.
Her lover, Damonides, does not share her eagerness for battle. Once a formidable warrior in his own right, he long ago put away the sword. Now he yearns only to live in peace with the beautiful and ardent Amazon Queen. But can he stand idly by while the woman he loves risks everything for the sake of her people?

Tor Books, 9780765349361, 368pp.
Publication Date: May 1, 2004
About the Author
Judith Hand has made the transition from left-brained scientist to right-brained novelist. Before she began writing fiction some twelve years ago, she was teaching Animal Behavior and Ornithology in the UCLA biology department.

She is the author of several novels and two screenplays. Her epic of the Minoan civilization, "Voice of the Goddess," has won numerous awards. Her contemporary romantic thriller, "Code Name Dove," features a female spy whose day job is to lead adventure tours and whose great personal love is photography. In all of her stories, she writes of strong, bold women, women who are doers and leaders.

An avid camper, classical music fan, and birdwatcher, she currently lives in Rancho Bernardo, California.
or
Not Currently Available for Direct Purchase