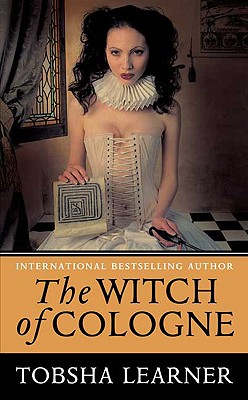 The Witch of Cologne
Mass Market Paperback

* Individual store prices may vary.
Other Editions of This Title:
Paperback (8/1/2005)
Description
A Time of Peril

The Inquisitor, Carlos Vicente Solitario, charges a young Jewish midwife, Ruth bas Elazar Saul, with heresy. Ruth may be the daughter of the city's chief rabbi, but this is no protection against the Inquisition's accusations.

A Quest for Justice

Detlef von Tennen, nobleman and canon, cousin to the Archbishop, suspects that something other than religion drives Solitario to persecute Ruth. Determined to ensure that justice is done, Detlef joins the investigation--and finds his passions fully aroused by Ruth's impressive intelligence and darkly exotic beauty.

Two Hearts' Desires

All her life, Ruth bas Elazar Saul has thirsted for knowledge, despite the price she paid by concealing her gender and being cast out of her father's house. Her faith sustains her through all, even the attentions of the Inquisition. Then, in the very heart of danger, God blesses her with the greatest love she has ever known.
Praise For The Witch of Cologne…
Praise for The Witch of Cologne: "Fans of sweeping historical dramas will be enthralled by Ruth's story; remarkably, Learner writes with equal power about the intensity of Ruth's spirituality, the passion of her forbidden love for Detlef, and the horror of the torture she suffers at Solitario's hands. This is the kind of all-consuming novel that readers hate to see end."--Booklist

"Whisks readers away to 17th-century Cologne and Amsterdam."--The New York Times Magazine

"Learner enlightens readers on the intricacies of the Church, the Inquisition, and Jewish mysticism in a deep and moving novel."--Romantic Times BookClub Magazine

"In the nature of her belief that God is within us and her practice of a newer, more scientific kind of midwifery, Ruth is clearly well ahead of the time. Learner's writing is highly visual, consciously theatrical with dramatic scenes that are larger than life. The novel moves with extraordinary energy and pace."--The Age

"Brimming with imagination and larger-than-life characters. Casts a magical spell."--New Weekly

"Bawdy, romantic, and filled with well-developed characters, Learner's first novel is evocative of Geraldine Brooks and Diana Gabaldon's sensual touch. Fans of historical fiction involving religion, science, and romance will savor every page of this impossible-to-put-down book set in Cologne and Amsterdam."--Library Journal
"Sensuous . . . . Ruth bas Elazar Saul is arrested for sorcery by the sadistic archbishop Carlos Vicente Solitario. Ruth's keen intelligence and bravery in prison win her an ally, Canon Detlef von Tennen, who falls passionately in love with the 'Jewess.' This steamy, riveting page-turner is also a paean to the triumph of a woman's spirit." --Publishers Weekly
"A story of intricately woven facts and fiction with rich sensory details. Written with great intelligence and care, The Witch of Cologne is spellbinding, intriguing and touched with erotica."--Affaire de Coeur
Tor Books, 9780765350466, 480pp.
Publication Date: January 2, 2007
About the Author
Originally from London, where she trained to be a sculptor, Tobsha Learner has lived in America and Australia. Learner has written for radio, television and film, and the theater. Her plays have been performed at theater festivals in the US, Australia, and Scotland, and she has produced three short films.

Learner's short story collection, "Quiver," is an international success. "The Witch of Cologne" was a bestseller in Australia and has been released in Germany as well as in the United States. She is currently working on a new novel.
or
Not Currently Available for Direct Purchase