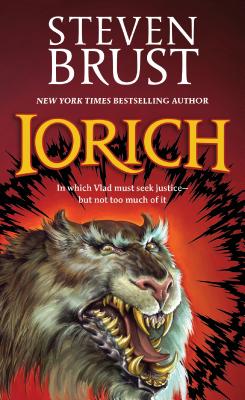 Iorich (Vlad #12) (Paperback)
Tor Fantasy, 9780765350572, 336pp.
Publication Date: January 30, 2018
Other Editions of This Title:
Paperback (2/1/2011)
Hardcover (1/5/2010)
MP3 CD (5/17/2016)
* Individual store prices may vary.
Description
"Delightful, exciting, and sometimes brilliant."—Neil Gaiman on Steven Brust
The twelfth novel in the New York Times-bestselling Vlad Taltos series--in which Vlad Taltos's struggle to survive the Jhereg price on his head takes him to new heights of danger and intrigue
House Jhereg, Dragaera's organized crime syndicate, is still hunting Vlad Taltos. There's a big price on his head on Draegara City. Then he hears disturbing news. Aliera--longtime friend, sometime ally--has been arrested by the Empire on a charge of practicing elder sorcery, a capital crime.
It doesn't make sense. Everybody knows Aliera's been dabbling in elder sorcery for ages. Why is the Empire down on her now? Why aren't her powerful friends--Morrolan, Sethra, the Empress Zerika--coming to her rescue? And most to the point, why has she utterly refused to do anything about her own defense?
It would be idiotic of Vlad to jump into this situation. He's a former Jhereg who betrayed the House. He's an Easterner--small, weak, short-lived. He's being searched for by the most remorseless killers in the world. Naturally, that's exactly why he's going to get completely involved...
The Vlad Taltos Novels
1. Jhereg
2. Yendi
3. Teckla
4. Taltos
5. Phoenix
6. Athyra
7. Orca
8. Dragon
9. Issola
10. Dzur
11. Jhegaala
12. Iorich
13. Tiassa
14. Hawk
15. Vallista
About the Author
Steven Brust is the bestselling author of Issola, Dragon, The Phoenix Guards, Five Hundred Years After, and many others. A native of Minneapolis, he currently lives in Las Vegas.
Praise For Iorich (Vlad #12)…
"Brust is...a writer who can spin a yarn that keeps you guessing until the end, aware of many precise moving parts all meshing in synchrony to drive a magnificent jeweled watch of a story." —Cory Doctorow on Hawk
"Wonderful…. This witty, wry tale stands alone and is very accessible to new readers." —Publishers Weekly on Tiassa
"Delightful, exciting, and sometimes brilliant." —Neil Gaiman on Steven Brust