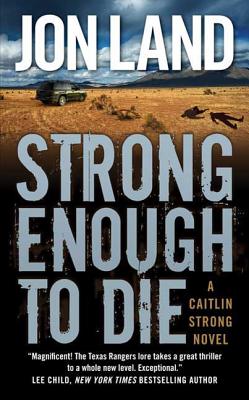 Strong Enough to Die (Mass Market Paperbound)
A Caitlin Strong Novel
Forge, 9780765351159, 404pp.
Publication Date: March 30, 2010
* Individual store prices may vary.
or
Not Currently Available for Direct Purchase
Description
Caitlin Strong is a fifth-generation Texas Ranger, proud to wear the badge of her father and grandfather until a deadly shoot-out along the Mexican border causes her to question her calling.
Five years later, Caitlin is still trying to purge herself of guilt from the day that ended her Ranger career. But a shattering discovery will reopen old wounds, and Caitlin's renewed investigation into the truth behind the bloody desert firefight uncovers a terrifying plot that reaches into every home and threatens the very core of the country.
Her only hope for success and survival is to team up with Cort Wesley Masters, a deadly outlaw who has every reason to want her dead. But he also holds the key to the truth she desperately seeks in the anguished brain of an amnesiac torture victim.
Caitlin's tormented quest for redemption takes her to a dark world, ranging from Washington to Bahrain to the wastelands of Mexico, as she finds that the strength to live comes from learning how to die.
About the Author
Jon Land is the acclaimed author of numerous bestsellers, including The Seven Sins, The Last Prophecy, Blood Diamonds, The Walls of Jericho, The Pillars of Solomon, A Walk in the Darkness, Keepers of the Gate, and The Blue Widows. He lives in Providence, Rhode Island.
Praise For Strong Enough to Die: A Caitlin Strong Novel…
"Magnificent! The Texas Rangers lore takes a great thriller to a whole new level. Exceptional."—Lee Child, #1 New York Times bestselling author of Nothing to Lose on Strong Enough to Die

"A terrific book! The good, the bad, and the ugly woven into a tale that leaves the reader breathless. Great fun!"—Sandra Brown, #1 New York Times bestselling author of Smoke Screen on Strong Enough to Die

"An inventive Tex-Mex thriller. Jon Land's style never waivers."—Brad Thor, #1 New York Times bestselling author of The Last Patriot on Strong Enough to Die

"As rip-roaring as a Texas wildfire! I loved it!"—Lisa Jackson, #1 New York Times bestselling author of Lost Souls on Strong Enough to Die

"You'll get blisters on your fingers turning the pages so fast, but that won't stop you reading until the slam-bang and very satisfying ending."—John Lescroart, New York Times bestselling author of Betrayal on Strong Enough to Die

"Thrilling from the dramatic opening to the nail-biting ending, Strong Enough to Die is a complex, twisty page-turner with full, well-developed characters and a meaty story. Plan to stay up all night, because you won't rest until the last bullet hits its mark."—Allison Brennan, New York Times bestselling author of Playing Dead on Strong Enough to Die

"Blisteringly paced, complex in character, and terrifying in scope. Not to be missed!"—James Rollins, New York Times bestselling author of The Last Oracle on Strong Enough to Die

"Strong enough to be a bestseller! It's a page-turner, and I loved the main characters, especially Caitlin. She has a sense of honor and duty, but also a big heart. A very compelling story."—Carla Neggers, New York Times bestselling author of The Angel on Strong Enough to Die

"A supple, elegant thriller, told in an assured tone, from a born stylist who knows how to manipulate a reader in exciting ways. Strong Enough to Die catches you on page one and commands you to finish. Well done."—Steve Berry, New York Times bestselling author of The Charlemagne Pursuit on Strong Enough to Die

"A fast-paced, kick-butt, action thriller with a timely story and two of the most captivating characters I've encountered in quite a while."—David Morrell, New York Times bestselling author of The Spy Who Came for Christmas on Strong Enough to Die
Advertisement