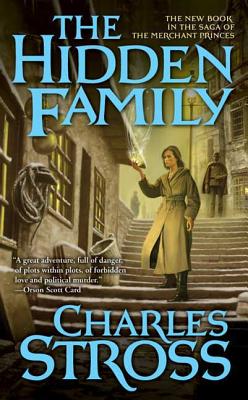 The Hidden Family (Paperback)
Book Two of Merchant Princes
Tor Fantasy, 9780765352057, 336pp.
Publication Date: May 2, 2006
Other Editions of This Title:
Digital Audiobook (2/16/2015)
Pre-Recorded Audio Player (2/1/2015)
* Individual store prices may vary.
Description
The second volume of Charles Stross's thrill-a-minute saga of multiple worlds
Miriam, a hip tech journalist from Boston, discovered her alternate world relatives in The Family Trade, and with them an elite identity she didn't know was hers. Now, in order to avoid a slippery slope down to an unmarked grave, Miriam, known as Lady Helge to the Family, starts applying modern business practices and scientific knowledge to a trade dominated by mercantilists -- with unexpected consequences for three different timelines, including the quasi-Victorian one exploited by the hidden family. Charles Stross is one of the big new SF writers of the 21st century, and the saga of The Merchant Princes is his most ambitious work yet.
About the Author
Charles Stross is the author of the bestselling Merchant Princes series, the Laundry series, and several stand-alone novels including Glasshouse, Accelerando, and Saturn's Children. Born in Leeds, England, in 1964, Stross studied in London and Bradford, earning degrees in pharmacy and computer science. Over the next decade and a half he worked as a pharmacist, a technical writer, a software engineer, and eventually as a prolific journalist covering the IT industry. His short fiction began attracting wide attention in the late 1990s; his first novel, Singularity Sky, appeared in 2003.  He has subsequently won the Hugo Award twice. He lives with his wife in Edinburgh, Scotland, in a flat that is slightly older than the state of Texas.
Praise For The Hidden Family: Book Two of Merchant Princes…
"Charles Stross brings info-tech philosophy to the world of fantasy. . . .Stories unfold across three worlds that are brought to life with humor-laced action." —The Denver Post
"It's an obvious homage to Zelazny's Amber series, but I like it a good deal more." —The San Diego Union-Tribune
"The Hidden Family is a festival of ideas in action, fast moving and often very funny, but underpinned by a rigorous logical strategy. . . .Stross's breezy, almost Heinleinian mode of narration is on fine display in The Hidden Family." —Locus
"Miriam Beckstein, aka Countess Helge Thorold-Hjorth of the Clan, finds her own world to conquer in this fast-moving sequel to The Family Trade. . . . Stross continues to mix high and low tech in amusing and surprising ways. . . .[he] weaves a tale worthy of Robert Ludlum or Dan Brown." —Publishers Weekly
"English writer Charles Stross, whose books burst with pop-science ideas, intrigue, strong characters and even romance, continues his Merchant Princes series . . . . Stross is an energetic writer . . . who creates page-turning reads . . . . Readers will be relieved to learn that there is a lot to look forward to in The Hidden Family, including a finale that is all Gothic Romance: regrets, a ball and a happy reunion." —Bookpage
or
Not Currently Available for Direct Purchase