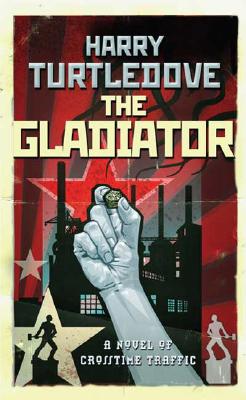 The Gladiator (Mass Market Paperbound)
Tor Books, 9780765353795, 288pp.
Publication Date: September 30, 2008
* Individual store prices may vary.
or
Not Currently Available for Direct Purchase
Description
In Harry Turtledove's" The Gladiator, " the Soviet Union won the Cold War. The Russians were a little smarter than they were in our own world, and the United States was a little dumber and a lot less resolute. Now, more than a century later, the world's gone Communist, and capitalism is a bad word.
For Gianfranco and his friend Annarita, a couple of teenagers growing up in Milan, life in a heavily regimented, surveillance-rich command economy is just plain dreary. The eventual withering-away of the state doesn't look like it's going to happen anytime soon.
Annarita's a hard-working student and a member of the Young Socialists' League. Gianfranco is a lot less motivated--but on the other hand, his father's a Party apparatchik. The biggest excitement in their lives is a wargame shop called The Gladiator, which runs tournaments, and stocks marvelous complex games you can't find anywhere else.
Then, abruptly, the shop is shut down. Someone's figured out that The Gladiator's games are teaching counterrevolutionary capitalist principles. The Security Police are searching high and low for the shop's proprietors, who've not only vanished into thin air, but have left behind sets of fingerprints that aren't in the records of any government on earth.
Only one staffer is left: Gianfranco and Annarita's friend Eduardo. He's on the run, and he comes to them in secret with an astonishing story: he's a time trader from our own timeline, accidentally left behind when the store was evacuated. The only way Eduardo can get home to his own timeline is if Gianfranco and Annarita can help him reach one of the other time trader sites in this world--and the Security Police will be on their tails all the way there.
About the Author
Harry Turtledove is an American fantasy and science fiction writer, born in Los Angeles, CA on 14 June 1949. A Caltech dropout, he eventually attended UCLA and received a Ph.D. in Byzantine history in 1977. In the 1980s, Turtledove worked as a technical writer for the Los Angeles County Office of Education. In 1991, he left the LACOE and turned to writing full time. From 1986-1987, he served as the Treasurer for the Science Fiction Writers of America. He has written under several pseudonyms, including Eric G. Iverson, Mark Gordian, and H. N. Turtletaub. Turtledove has received numerous awards and distinctions, including the HOMer Award for Short Story in 1990 for "Designated Hitter," the John Esthen Cook Award for Southern Fiction in 1993 for Guns of the South, and the Hugo Award for Novella in 1994 for Down in the Bottomlands. "Must and Shall" was nominated for the 1996 Hugo Award for Best Novelette and received an honorable mention for the 1995 Sidewise Award for Alternate History. The Two Georges also received an honorable mention for the 1995 Sidewise Award for Alternate History. The Worldwar series received a Sidewise Award for Alternate History Honorable Mention in 1996. Publishers Weekly called him the "Master of Alternate History." He is married to mystery writer Laura Frankos and they have three daughters: Alison, Rachel, and Rebecca.
Praise For The Gladiator…
"One of alternate history's authentic modern masters."
–Booklist
 
"Turtledove has proved he can divert his readers to astonishing places…I know I'd follow his imagination almost anywhere."
–San Jose Mercury News
 
"Readers nostalgic for the SF novels of Robert A. Heinlein and Andre Norton will find much to enjoy…This is a rousing story that reminds us that 'adventure' is really someone else in deep trouble a long way off."
–Publishers Weekly on Gunpowder Empire
Advertisement