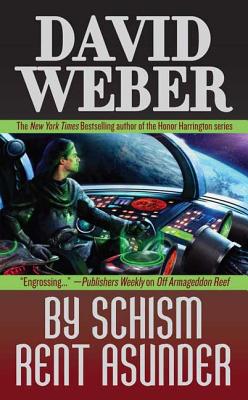 By Schism Rent Asunder
A Novel in the Safehold Series (#2)
Mass Market

* Individual store prices may vary.
Other Editions of This Title:
Digital Audiobook (7/21/2008)
Paperback (5/1/2011)
Description
The sequel to the New York Times best seller Off Armageddon Reef
The world has changed. The mercantile kingdom of Charis has prevailed over the alliance designed to exterminate it. Armed with better sailing vessels, better guns and better devices of all sorts, Charis faced the combined navies of the rest of the world at Darcos Sound and Armageddon Reef, and broke them. Despite the implacable hostility of the Church of God Awaiting, Charis still stands, still free, still tolerant, still an island of innovation in a world in which the Church has worked for centuries to keep humanity locked at a medieval level of existence.
But the powerful men who run the Church aren't going to take their defeat lying down. Charis may control the world's seas, but it barely has an army worthy of the name. And as King Cayleb knows, far too much of the kingdom's recent good fortune is due to the secret manipulations of the being that calls himself Merlin-a being that, the world must not find out too soon, is more than human. A being on whose shoulders rests the last chance for humanity's freedom.
Now, as Charis and its archbishop make the rift with Mother Church explicit, the storm gathers. Schism has come to the world of Safehold. Nothing will ever be the same... in David Weber's By Schism Rent Asunder.
Safehold Series
1. Off Armageddon Reef
2. By Schism Rent Asunder
3. By Heresies Distressed
4. A Mighty Fortress
5. How Firm A Foundation
6. Midst Toil and Tribulation
7. Like A Mighty Army
8. Hell's Foundations Quiver
9. At the Sign of Triumph
Praise For By Schism Rent Asunder: A Novel in the Safehold Series (#2)…
"Gripping…Shifting effortlessly between battles among warp-speed starships and among oar-powered galleys, Weber brings the political maneuvering, past and future technologies, and vigorous protagonists together for a cohesive, engrossing whole." —Publishers Weekly (starred review) on Off Armageddon Reef
"Splendid!" —Booklist (starred review) on Off Armageddon Reef
"Vast, complex, intricate, subtle, and unlaydownable. This looks like the start of the biggest thing in science fiction since Isaac Asimov's Foundation series." —Dave Duncan on Off Armageddon Reef
"A new SF epic." —Library Journal (starred review) on Off Armageddon Reef
"Fantastic in every sense of the word--the kind of book that makes you sit back and think about this reality that we call life. Who can ask for more than that?" —R. A. Salvatore on Off Armageddon Reef
Tor Science Fiction, 9780765353986, 736pp.
Publication Date: June 2, 2009
About the Author
David Weber is a science fiction phenomenon. His popular Honor Harrington and Honorverse novels—including Mission of Honor, At All Costs, and Torch of Freedom—are New York Times bestsellers and can't come out fast enough for his devoted readers. He is also the author of the Safehold series, including Off Armageddon Reef, By Schism Rent Asunder, By Heresies Distressed and A Mighty Fortress. His other top-selling science fiction novels include Out of the Dark, the Dahak books and the Multiverse books, written with Linda Evans. He has also created an epic SF adventure series in collaboration with John Ringo, including We Few. His novels have regularly been Main Selections of the Science Fiction Book Club. Weber has a bachelor's degree from Warren Wilson College, and attended graduate school in history at Appalachian State University. He lives in South Carolina.