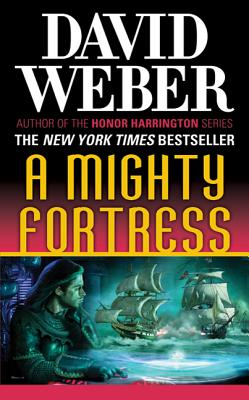 A Mighty Fortress (Mass Market)
A Novel in the Safehold Series (#4)
Tor Science Fiction, 9780765354075, 1152pp.
Publication Date: March 1, 2011
Other Editions of This Title:
Digital Audiobook (4/12/2010)
Hardcover (4/13/2010)
Compact Disc (4/13/2010)
Paperback (5/1/2011)
* Individual store prices may vary.
Description
The latest novel in the New York Times-bestselling series begun with Off Armageddon Reef, By Schism Rent Asunder, and By Heresies Distressed.
Young Cayleb Ahrmahk has accomplished things few people could even dream of. Not yet even thirty years old, he's won the most crushing naval victories in human history. He's smashed a hostile alliance of no less than five princedoms and won the hand of the beautiful young Queen Sharleyan of Chisholm. Cayleb and Sharleyan have created the Charisian Empire, the greatest naval power in the history of Safehold, and they've turned Charis into a place of refuge for all who treasure freedom.
Their success may prove short-lived. The Church of God Awaiting, which controls most of Safehold, has decreed their destruction. Mother Church's entire purpose is to prevent the very things to which Charis is committed. Since the first attempt to crush the heretics failed, the Church has no choice but to adopt some of the hated Charisian innovations for themselves. Soon a mighty fleet will sail against Cayleb, destroying everything in its path.
But there are still matters about which the Church knows nothing, including Cayleb and Sharleyan's adviser, friend, and guardian- the mystic warrior-monk named Merlin Athrawes. Merlin knows all about battles against impossible odds, because he is in fact the cybernetic avatar of a young woman named Nimue Alban, who died a thousand years before. As Nimue, Merlin saw the entire Terran Federation go down in fire and slaughter at the hands of a foe it could not defeat. He knows that Safehold is the last human planet in existence, and that the stasis the Church was created to enforce will be the human race's death sentence if it is allowed to stand.
The juggernaut is rumbling down on Charis, but Merlin Athrawes and a handful of extraordinary human beings stand in its path. The Church is about to discover just how potent the power of human freedom truly is, in David Weber's A Mighty Fortress.
Safehold Series
1. Off Armageddon Reef
2. By Schism Rent Asunder
3. By Heresies Distressed
4. A Mighty Fortress
5. How Firm A Foundation
6. Midst Toil and Tribulation
7. Like A Mighty Army
8. Hell's Foundations Quiver
9. At the Sign of Triumph
About the Author
David Weber is a science fiction phenomenon. His popular Honor Harrington and Honorverse novels—including Mission of Honor, At All Costs, and Torch of Freedom—are New York Times bestsellers and can't come out fast enough for his devoted readers. He is also the author of the Safehold series, including Off Armageddon Reef, By Schism Rent Asunder, By Heresies Distressed and A Mighty Fortress. His other top-selling science fiction novels include Out of the Dark, the Dahak books and the Multiverse books, written with Linda Evans. He has also created an epic SF adventure series in collaboration with John Ringo, including We Few. His novels have regularly been Main Selections of the Science Fiction Book Club. Weber has a bachelor's degree from Warren Wilson College, and attended graduate school in history at Appalachian State University. He lives in South Carolina.
Praise For A Mighty Fortress: A Novel in the Safehold Series (#4)…
"Gripping…Shifting effortlessly between battles among warp-speed starships and among oar-powered galleys, Weber brings the political maneuvering, past and future technologies, and vigorous protagonists together for a cohesive, engrossing whole." —Publishers Weekly, starred review, on Off Armageddon Reef
"A superb cast of characters and plenty of action…. This fine book gives new luster to Weber's reputation and new pleasure to his fans. " —Booklist, starred review, on By Schism Rent Asunder