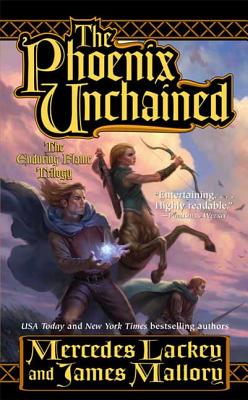 The Phoenix Unchained (Mass Market Paperbound)
Tor Books, 9780765355065, 391pp.
Publication Date: August 26, 2008
* Individual store prices may vary.
or
Not Currently Available for Direct Purchase
Description
"New York Times" and "USA Today" bestselling authors Mercedes Lackey and James Mallory first teamed up to write The Obsidian Trilogy, set in a wondrous world filled with magical beings, competing magic systems, and a titanic struggle between good and evil. That world proved so popular with the creators and readers alike that Lackey and Mallory have returned to it with "The Phoenix Unchained," Book One of The Enduring Flame, the opening volume of a new epic fantasy trilogy.
After a thousand years of peace, much Magick has faded from the world. The Elves live far from humankind. There are no High Mages, and Wild Mages are seen only rarely. Bisochim, a powerful Wild Mage, is determined to reintroduce Darkness to the world, believing that it is out of Balance.
Tiercel, a young Armethalian nobleman, is convinced that High Magic is not just philosophy. He attempts a spell-and draws the unwelcome attention of Bisochim. Tiercel survives Bisochim's attack and begins trying to turn himself into a High Mage.
Next in line to be Harbormaster of Armethalieh, Harrier instead finds himself regularly saving Tyr's life and meeting magickal people and creatures. To Harrier's dismay, it seems that he must become a hero.
In "The Phoenix Unchained," Harrier and Tiercel begin a marvelous journey to uncover their destinies. Along the way, they meet a charming female centaur, several snooty Elves, and the most powerful dragon their world has ever known.
About the Author
Mercedes Lackey is the author of the bestselling Valdemar series, the Tales of the Five Hundred Kingdoms, and, also with James Mallory, the Obsidian Trilogy (The Outstretched Shadow, To Light a Candle, and When Darkness Falls) and the Enduring Flame Trilogy (The Phoenix Unchained, The Phoenix Endangered, and The Phoenix Transformed). She has written many other books, including Trio of Sorcery, Phoenix and Ashes, Sacred Ground, The Firebird, The Fairy Godmother, and Alta. Lackey is the co-author, with Andre Norton, of the Halfblood Chronicles, including Elvenborn. Mercedes Lackey was born in Chicago and graduated from Purdue University. She has worked as an artist's model, a computer programmer, and for American Airlines, and has written lyrics and recorded more than fifty songs. She lives in Oklahoma.James Mallory is author of the three-part novelization of the Hallmark Merlin miniseries: The Old Magic, The King's Wizard, and The End of Magic. He was born in San Francisco and attended schools in California and the Midwest, before moving to New York to pursue a career in writing. From an early age, he has been fascinated with the Arthurian legends, an avocation which triggered a lifelong interest in fantasy literature. He lives in California.
Praise For The Phoenix Unchained…
"The deft handling of the romance between Kellen and Vestakia helps heighten suspense as the struggle on both the physical and magical planes grows more intense.  High fantasy fans should appreciate the intelligent storytelling with an unmistakable flavor of Andre Norton at her best."--Publishers Weekly on When Darkness Falls
"Gives readers plenty of good-versus-evil action.  Relationships among characters are realistically complex as century-old boundaries are crossed, both literally and figuratively."--VOYA on When Darkness Falls
"Filled with magic, dragons, elves, and other mythical creatures, this title belongs in most fantasy collections."--Library Journal on To Light a Candle
"Captivating.  The narrative speeds to the end, leaving the reader satisfied and wanting to know more."--Publishers Weekly on The Outstretched Shadow
"An epic fantasy filled with sorcery and swordplay set in a world on the verge of a Demon war."--Library Journal on The Outstretched Shadow
"Will leave readers eager for the next installment.  Lackey and Mallory create a wide variety of multidimensional characters, especially Kellen who grows to manhood in realistic starts and stops, recognizing and accepting both his heritage and the consequences of his actions."--VOYA on The Outstretched Shadow
Advertisement