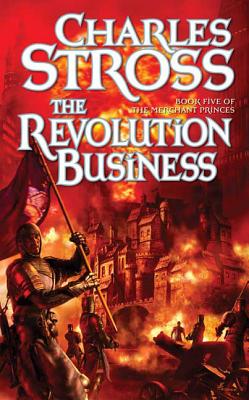 The Revolution Business
Book Five of the Merchant Princes
Paperback

* Individual store prices may vary.
Other Editions of This Title:
Digital Audiobook (11/30/2015)
Hardcover (4/14/2009)
Description
Things are going badly for the Clan in this SF novel of the Merchant Princes, the immensely popular series by Charles Stross. Locked in a vicious civil war for control over the kingdom of Niejwein, their army is bottled up inside a fortress under siege in two parallel universes at once. Duke Angbard, the Clan's leader, has been laid low by a stroke: plotters are already conspiring in readiness for the deadly dance to come.
Miriam, rescued from a tight spot in New Britain, finds the hopes of the young, progressive faction focused on her. But do they want her as a leader or a figurehead? She soon finds herself thrown into a desperate struggle for power. Meanwhile, unbeknownst to the Clan, researchers working for the US government have achieved a technological breakthrough.
Praise For The Revolution Business: Book Five of the Merchant Princes…
"[These books] are, first and foremost, great fun. Charles Stross's Merchant Princes novels are economic science fiction worth reading." —Paul Krugman, Winner of the Nobel Prize in Economics and author of The Great Unraveling
"Politics, intrigue, and striking plot twists make this story a compelling read. The fast-paced and complex interpersonal and political maneuvering will leave readers hard-pressed to put this book down before finding out how it ends." —RT BOOKreviews on The Revolution Business
"For sheer inventiveness and energy, this cliffhanger-riddled serial remains difficult to top." —Publishers Weekly on The Merchants' War
"Stross has taken the broad idea with which he began the series...and expended it logically in several initially unexpected directions. The action continues to be compelling, with the author throwing in new surprises every time the reader thinks the story's about to settle down." —Asimov's Science Fiction on The Merchants' War
"Twenty-first-century politics and high-fantasy intrigue make remarkably good bedfellows in Stross' Merchant Princes series. . . . The world-building in this series is simply superb, in other words, it is engaging, crystal-clear and disturbingly real..... The Merchants' War is fast-paced and engrossing and will leave readers ravenous for the next installment." —SciFi.com
"The Clan Corporate offers more proof, if any were needed, why Charles Stross has become universally acknowledged as one of science fiction's major new talents." —Mike Resnick
"The Hidden Family is a festival of ideas in action, fast moving and often very funny, but underpinned by a rigorous logical strategy. . . .Stross's breezy, almost Heinleinian mode of narration is on fine display in The Hidden Family." —Locus
"Stross continues to mix high and low tech in amusing and surprising ways. . . .[he] weaves a tale worthy of Robert Ludlum or Dan Brown." —Publishers Weekly on The Hidden Family
"Charles Stross brings info-tech philosophy to the world of fantasy. . . .Stories unfold across three worlds that are brought to life with humor-laced action." —The Denver Post on The Hidden Family
"With The Family Trade, Stross brings to fantasy the same kind of sly humor and clear-eyed extrapolation that he previously brought to space opera and horror, Miriam's predicament is presented with great wit and high suspense." —San Francisco Chronicle
"Blending the surreal hip fantasy of Roger Zelazny's 'Amber' series with the modern drama of The Sopranos, Stross's latest novel features a determined, independent heroine ready to make the best of a whole new life." —Library Journal on The Family Trade
Tor Science Fiction, 9780765355904, 368pp.
Publication Date: February 2, 2010
About the Author
Charles Stross is the author of the bestselling Merchant Princes series, the Laundry series, and several stand-alone novels including Glasshouse, Accelerando, and Saturn's Children. Born in Leeds, England, in 1964, Stross studied in London and Bradford, earning degrees in pharmacy and computer science. Over the next decade and a half he worked as a pharmacist, a technical writer, a software engineer, and eventually as a prolific journalist covering the IT industry. His short fiction began attracting wide attention in the late 1990s; his first novel, Singularity Sky, appeared in 2003.  He has subsequently won the Hugo Award twice. He lives with his wife in Edinburgh, Scotland, in a flat that is slightly older than the state of Texas.
or
Not Currently Available for Direct Purchase