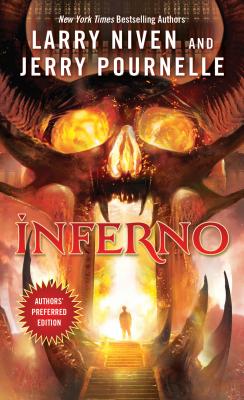 Inferno: Authors' Preferred Text (Mass Market Paperbound)
Authors' Preferred Text
Tor Books, 9780765355942, 240pp.
Publication Date: April 4, 2017
Description
After being thrown out the window of his luxury apartment, science fiction writer Allen Carpentier wakes to find himself at the gates of hell. Feeling he's landed in a great opportunity for a book, he attempts to follow Dante's road map. Determined to meet Satan himself, Carpentier treks through the Nine Layers of Hell led by Benito Mussolini, and encounters countless mental and physical tortures. As he struggles to escape, he's taken through new, puzzling, and outlandish versions of sin recast for the present day.
About the Author
LARRY NIVEN is the New York Times bestselling author of the Ringworld series, along with many other science fiction masterpieces, and fantasy including the Magic Goes Away series. He has received the Nebula Award, five Hugos, four Locus Awards, two Ditmars, the Prometheus, and the Robert A. Heinlein Award, among other honors.JERRY POURNELLE is an essayist, journalist, and science fiction author. He has advanced degrees in psychology, statistics, engineering, and political science. He lives in Studio City, California.
Advertisement