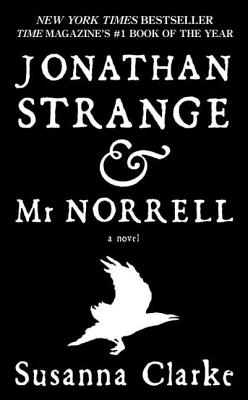 Jonathan Strange & Mr. Norrell (Mass Market)
A Novel
Tor Books, 9780765356154, 1024pp.
Publication Date: August 1, 2006
Other Editions of This Title:
Digital Audiobook (10/31/2004)
Paperback (8/11/2020)
Prebound (8/1/2006)
CD-Audio (4/14/2015)
Paperback (9/5/2005)
Paperback (5/26/2015)
Hardcover (8/26/2004)
Compact Disc (11/11/2004)
Paperback (9/29/2009)
Hardcover (11/15/2005)
Compact Disc (2/1/2005)
* Individual store prices may vary.
Description
At the dawn of the nineteenth century, two very different magicians emerge to change England's history. In the year 1806, with the Napoleonic Wars raging on land and sea, most people believe magic to be long dead in England-until the reclusive Mr Norrell reveals his powers, and becomes a celebrity overnight.

Soon, another practicing magician comes forth: the young, handsome, and daring Jonathan Strange. He becomes Norrell's student, and they join forces in the war against France. But Strange is increasingly drawn to the wildest, most perilous forms of magic, straining his partnership with Norrell, and putting at risk everything else he holds dear.

Time Magazine #1 Book of the Year « Book Sense Book of the Year « People Top Ten Books of the Year « Winner of the Hugo Award « A New York Times Notable Book of the Year « Salon.com Top Ten of 2004 «Winner of the World Fantasy Award « Nancy Pearl's Top 12 Books of 2004 « Washington Post Book World's Best of 2004 « Christian Science Monitor Best Fiction 2004 « San Francisco Chronicle Best Books of 2004 « Winner of the Locus Award for Best First Novel « Chicago Tribune Best of 2004 « Seattle Times 25 Best Books of 2004 « Atlanta Journal-Constitution Top 12 Books of 2004 « Village Voice "Top Shelf" « Raleigh News & Observer Best of 2004 « Rocky Mountain News critics' favorites of 2004 « Kansas City Star 100 Newsworthy Books of 2004 « Fort Worth Star-Telegram 10 Best Books of 2004 « Hartford Courant Best Books of 2004
About the Author
Susanna Clarke was born in Nottingham, England, in 1959, the eldest daughter of a Methodist minister. She was educated at St Hilda's College, Oxford, and has worked in various areas of nonfiction publishing. She has published a number of short stories and novellas in American anthologies, as well as her own most recent collection of short stories entitled "The Ladies of Grace Adieu, and Other Stories."
Praise For Jonathan Strange & Mr. Norrell: A Novel…
"What kind of magic can make an 800-page novel seem too short? Whatever it is, debut author Susanna Clarke is possessed by it." —USA Today on Jonathan Strange & Mr Norrell

"Ravishing...A chimera of a novel that combines the dark mythology of fantasy with the delicious social comedy of Jane Austen into a masterpiece of the genre that rivals Tolkien...What really sets Jonathan Strange & Mr Norrell apart is its treatment of magic. Clarke's magic is a melancholy, macabre thing, confabulated out of snow and rain and mirrors and described with absolute realism ... Clarke has another rare faculty: she can depict evil ... [she] reaches down into fantasy's deep, dark, twisted roots, down into medieval history and the scary, Freudian fairy-tale stuff. Jonathan Strange & Mr Norrell reminds us that there's a reason fantasy endures: it's the language of our dreams. And our nightmares." —Time

"Clarke's imagination is prodigious, her pacing is masterly and she knows how to employ dry humor in the service of majesty." —The New York Times on Jonathan Strange & Mr Norrell

"Unquestionably the finest English novel of the fantastic written in the last seventy years. It's funny, moving, scary, otherworldly, practical and magical, a journey through light and shadow--a delight to read, both for the elegant and precise use of words, which Ms. Clarke deploys as wisely and dangerously as Wellington once deployed his troops, and for the vast sweep of the story, as tangled and twisting as old London streets or dark English woods. Closing Jonathan Strange & Mr Norrel after 800 pages, my only regret was that it wasn't twice the length.... From beginning to end, a perfect pleasure." —Neil Gaiman, author of Anansi Boys, American Gods, and the Sandman series

"Immense, intelligent, inventive...Clarke is a restrained and witty writer with an arch and eminently readable style." —Entertainment Weekly on Jonathan Strange & Mr Norrell

"Over the course of nearly 800 pages Clarke channels the world of Jane Austen, the Gothic tale, the Silver-Fork Society novel, military adventure à la Bernard Sharpe or Patrick O'Brian, romantic Byronism and Walter Scott's passion for the heroic Northern past. She orchestrates all these fictive elements consummately well...Many books are to be read, some are to be studied, and a few are meant to be lived in for weeks. Jonathan Strange & Mr. Norrell is of this last kind." —The Washington Post on Jonathan Strange & Mr Norrell

"Combining folklore and fantasy with horror-story imagination, [Clarke] creates a Napoleonic-era England alive with the promise--and danger--of uncontrollable forces...Clarke's sober style keeps the fantasy grounded, and meticulous historical research brings the magical episodes to terrifying life." —People (Critic's choice, four stars) on Jonathan Strange & Mr Norrell

"The most sparkling literary debut of the year." —Salon on Jonathan Strange & Mr Norrell

"Mesmerizing." —Harper's Bazaar on Jonathan Strange & Mr Norrell

"This 800-page work of fantasy--think Harry Potter sprinkled with the dust of Tolkien and Alasdair Gray--posits an extraordinary alternative history of England where magic, fairies, spirits and enchantments were once part of everyday life...This incredible work of the imagination, which took Clarke more than 10 years to write, ends all too soon." —New York Post (four stars) on Jonathan Strange & Mr Norrell

"Here is a writer who remembers that true fairy tales carry a sting and the creatures themselves were never properly domesticated to the nursery. Her uncanny book is an object lesson in the pleasures--and risks--of enchantment." —Village Voice on Jonathan Strange & Mr Norrell

"Gorgeous...A terrific, phenomenally ambitious book." —The Onion on Jonathan Strange & Mr Norrell

"An instant classic, one of the finest fantasies ever written." —Kirkus Reviews (starred review) on Jonathan Strange & Mr Norrell

"Extraordinary...Will enchant readers of fantasy and of literary fiction alike." —Publishers Weekly (starred review) on Jonathan Strange & Mr Norrell

"A smashing success...History and fantasy form a beautiful partnership in this detailed, authentic, and heartfelt novel." —Booklist (starred review) on Jonathan Strange & Mr Norrell

"Wonderful. At almost 800 pages, it is an immense, densely plotted story, peopled with a a vast cast of extremely well-drawn characters, filled with unexpected events, ancient prophesies,varied and exotic settings, and all manner of human and inhuman conflict, and it is built one splendid scene upon the next." —Toronto Globe and Mail on Jonathan Strange & Mr Norrell

"Jonathan Strange and Mr Norrell comes across as equal parts Jane Austen and Charles Dickens flavored with Rowling and Tolkien. It's inarguably one of the year's best and most original works." —National Post (Canada)

"Combines the wit of Jane Austen with the subterranean spookiness of the works of Arthur Conan Doyle." —Seattle Times on Jonathan Strange & Mr Norrell

"An enthralling, unique read." —Baltimore Sun

"Witty dialogue, cunning observations, and intriguing footnotes...[A] sweeping adventure full of telling details, mixing history and fantasy to create worlds of deep imagination that seem as real as our own." —San Francisco Chronicle on Jonathan Strange & Mr Norrell

"While Jonathan Strange is every bit as whimsical and playful as the Harry Potter books, it is also grave and upsetting, the very opposite of comforting children's entertainment...Clarke has delivered a book of universal truths and unexpectedly heartbreaking acuity." —Fort Worth Star-Telegram

"Utterly enchanting. [Clarke's] union of historical fiction and fantasy is fresh, it is surprising, and it will appeal to those who want nothing more than to be carried away to a world crafted by a superb storyteller." —Denver Post on Jonathan Strange & Mr Norrell

"Extraordinary...If Harry Potter is the kind of book that makes you want to be a kid again, Jonathan Strange & Mr Norrell is the kind of novel that will remind you that being an adult should be a whole lot more fun." —Atlanta Journal-Constitution

"I found it absolutely compelling. The narrative drive is irresistible and I could not stop reading until I had finished it. The narrator's tone is beautifully judged. It's full of wonderfully deadpan humour and its reticence leaves the reader to make up his or her mind about the characters. I loved all the invented scholarship and was fascinated by the mixture of historical realism and utterly fantastic events. I almost began to believe that there really was a tradition of 'English magic' that I had not heard about. The author captures the period and its literary conventions with complete conviction. And a large part of the fun is seeing how an early nineteenth century novel copes with the impact of magic. It's an astonishing achievement. I can't think of anything that is remotely like it." —Charles Palliser, author of The Quincunx, on Jonathan Strange & Mr Norrell