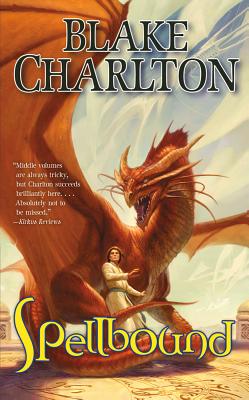 Spellbound (The Spellwright Trilogy #2) (Paperback)
Tor Fantasy, 9780765356598, 512pp.
Publication Date: August 28, 2012
Other Editions of This Title:
Paperback (8/2/2011)
Paperback (12/5/2017)
Paperback (8/2/2011)
Hardcover (9/13/2011)
Hardcover (3/2/2010)
MP3 CD (5/31/2016)
MP3 CD (5/31/2016)
Paperback (3/1/2012)
Paperback (8/1/2011)
Paperback (3/1/2011)
Mass Market Paperbound (8/1/2017)
* Individual store prices may vary.
Description
The exciting sequel to the acclaimed epic fantasy debut Spellwright by Blake Charlton
Francesca DeVega is a healer in the city of Avel, composing magical sentences that close wounds and disspell curses. But when a newly dead patient sits up and tells her that she must flee the infirmary or face a fate worse than death, Francesca finds herself in the middle of a game she doesn't understand—one that ties her to the notorious rogue wizard Nicodemus Weal and brings her face-to-face with demons, demigods, and a man she hoped never to see again.
Ten years ago, Nico escaped Starhaven Academy, leaving behind his failed life, in which he was considered disabled and felt useless. Now, in Spellbound, he's starting fresh, using his newfound gifts in the dark Chthonic languages to pursue the emerald that holds his birthright. Unfortunately, he can't escape the chaos of his old life. His mentor suffers from an incurable curse, agents of the fabled Halcyon hunt him day and night, pieces of Francesca's story don't add up, and the prophesized War of Disjunction looms on the horizon.
Nico and Francesca don't know it yet, but they are going to have to fit together the pieces of an age-old puzzle and discover the demon's darkest secret….
About the Author
BLAKE CHARLTON is the author of Spellwright and Spellbound and is currently a medical student at Stanford University. An active, engaging presence online, he lives in the San Francisco Bay area where he is working on the final novel of the Spellwright Trilogy.
Praise For Spellbound (The Spellwright Trilogy #2)…
"A well-written and cleverly presented fantasy with strong characters and surprising plot twists, this saga should appeal to those who enjoyed its predecessor as well as fans of Terry Brooks and L. E. Modesitt Jr." —Library Journal, starred review
"Charlton succeeds brilliantly here; this is no mere setup for the final installment. Absolutely not to be missed." —Kirkus Reviews, starred review
"Spellbound is an adventure fantasy filled with mystery, interesting characters and a unique world that mixes the fantasy clichés so many of us know and love, with a brand new feel that is purely Charlton." —Bookworm Blues
"Spellbound is a daring new work of fantasy that pushes the Spellwright trilogy closer to its conclusion while remaining just as emotionally and intellectually challenging as the first installment." —Rob Will Review
"The story is loaded with interesting characters, a story that works well and that comes unexpectedly at points, and a world that is worth returning to often." —Worlds in a Grain of Sand
or
Not Currently Available for Direct Purchase