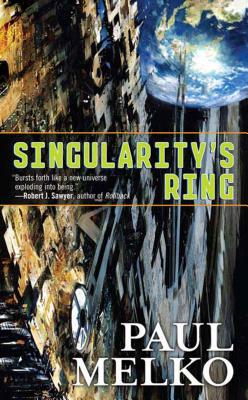 Singularity's Ring (Mass Market Paperback)
Tor Science Fiction, 9780765357021, 336pp.
Publication Date: April 28, 2009
* Individual store prices may vary.
Description
Apollo Papadopulos is in training to become the captain of the starship Consensus. Apollo is unique in that he/she/it is not an individual at all, but five separate teenagers that form a whole new entity. Strom, Meda, Quant, Manuel, Moira are a pod, as these kinds of personalities are called, genetically engineered to work and think as one and to be able to communicate non-verbally. As a rare quintet, much relies on the successful training of Apollo. But, as the pod's training progresses and more and more potentially lethal accidents occur, the pod members become fugitives on Earth, struggling just to survive.
About the Author
Paul Melko lives in Ohio. This is his first novel.
Praise For Singularity's Ring…
"[A] very nicely crafted and intelligent novel…it's no mean feat to build a five-sided hero and put "him" through some thrilling adventures, as Melko cleverly does here."
--SciFi Weekly
"Melko is clearly an up-and-comer, and this is a distinctive debut."
--Kirkus Reviews
"Melko's skill in story and setting is undeniable….There's more than enough invention and imaginative courage here to suggest that Melko may be at the beginning of an auspicious career."
--Locus

"Bursts forth like a new universe exploding into being."
--Robert J. Sawyer, author of Rollback

"An absorbing tour of a world where humanity isn't what it used to be."
--Charles Stross, author of Halting State
or
Not Currently Available for Direct Purchase