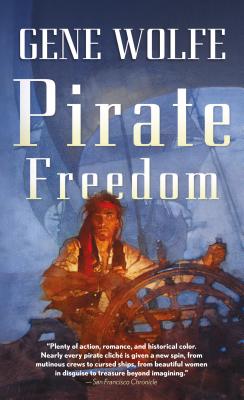 Pirate Freedom (Mass Market)
Tor Fantasy, 9780765358509, 448pp.
Publication Date: April 4, 2017
Other Editions of This Title:
Paperback (9/14/2010)
Hardcover (11/13/2007)
* Individual store prices may vary.
Description
It starts with a confession from a priest. His past has reached further back than what many would consider possible. Before he was a priest, he was the pirate Captain Cristofo, and before he was a pirate, he was just Chris, a boy living in a monastery in Cuba the day after tomorrow.
One day Chris realizes that he is not meant for the monastery he has grown up in, and leaves. On the streets of Havana everything looks strange and out-of-date, but Chris is too busy trying to find his next meal and a safe place to sleep to contemplate the city's odd lack of modern conveniences. He finds that this world is a much harder one than the one he remembers; it's a place where people steal, lie, and cheat. Where slaves are sold at auction, and the Spanish, French, and English are all battling for supremacy. When Chris is offered the opportunity to work on a ship in exchange for food and a small bit of money, he takes it, and thus begins his life as a pirate. People die, treasures are found, women are taken captive, and crews rebel.
Gene Wolfe is a masterful storyteller, and in Pirate Freedom, he uses his customary vision to invite us into the captivating world of pirates, their lives, and their adventures.
About the Author
Gene Wolfe (1931-2019) was the Nebula Award-winning author of The Book of the New Sun tetralogy in the Solar Cycle, as well as the World Fantasy Award winners The Shadow of the Torturer and Soldier of Sidon. He was also a prolific writer of distinguished short fiction, which has been collected in such award-winning volumes as Storeys from the Old Hotel and The Best of Gene Wolfe.
A recipient of the World Fantasy Award for Life Achievement, the Edward E. Smith Memorial Award, and six Locus Awards, among many other honors, Wolfe was inducted into the Science Fiction Hall of Fame in 2007, and named Grand Master by the Science Fiction and Fantasy Writers of America in 2012.