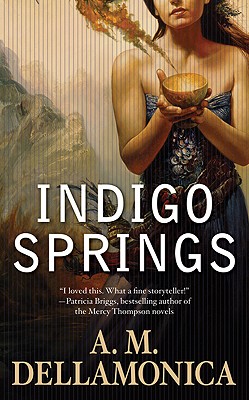 Indigo Springs
Mass Market Paperbound

* Individual store prices may vary.
Other Editions of This Title:
Paperback (10/27/2009)
Description
Indigo Springs is a sleepy town where things seem pretty normal . . . until Astrid's father dies and she moves into his house. She discovers that for many years her father had been accessing the magic that flowed, literally, in a blue stream beneath the earth, leaking into his house. When she starts to use the liquid "vitagua" to enchant everyday items, the results seem innocent enough: a "'chanted" watch becomes a charm that means you're always in the right place at the right time; a "'chanted" pendant enables the wearer to convince anyone of anything . . .
But as events in Indigo Springs unfold and the true potential of vitagua is revealed, Astrid and her friends unwittingly embark on a journey fraught with power, change, and a future too devastating to contemplate. Friends become enemies and enemies become friends as Astrid discovers secrets from her shrouded childhood that will lead her to a destiny stranger than she could have imagined . . .
Praise For Indigo Springs…
"Dellamonica has produced a well-written and original story, with a fascinatingly detailed world and a coherent magical system, reminiscent of Tim Powers' work. Compelling characterizations, engrossing plot, and a horrific look at the consequences of power used selfishly all kept me turning the pages."--Kage Baker

"This is an entertaining and terrifying tale of terrific characters who stumble into the practice of blue magic, and find that it is neither simple nor safe. Astrid, Jacks, and Sahara will enchant you, and lead you down unexpected paths of discovery and danger. A great read that will make you look for magic in everyday objects!"--Toby Bishop, author of AIRS BENEATH THE MOON

"I loved this. An original and terrific apocalyptic fantasy set in the real world, Indigo Springs is terrifyingly insightful, sprinkled with bits of humor for leavening. Newcomer A. M. Dellamonica has deftly crafted a book that is both literary and a very good read. What a fine storyteller Tor has discovered."--Patricia Briggs, author of BONE CROSSED

"INDIGO SPRINGS is a complex and ambitious first novel with vivid characters and an absorbing plot. A.M. Dellamonica is a talent to watch!"--Susan Palwick, author of SHELTER

"There is magic in the small town of Indigo Springs, magic lurking in the mysterious blue waters pooling under Astrid Lethewood's family home. And there is magic in INDIGO SPRINGS, the novel, magic that compels the reader to keep turning pages as the complex tale or ordinary people confronting centuries-old forces unfolds. A. M. Dellamonica has created a true "chantment" here."--Harry Turtledove, author of GIVE ME BACK MY LEGIONS!

"Alyx Dellamonica's first novel weaves images of empiricism and apocalypse, tells a story in which paradigms shatter and things fall apart. But that's not what Indigo Springs is about, not really. At its heart this is a story about people: in over their heads, reaping the whirlwind, doing the best they can and falling short. These are souls you have to care about, even as they break the world in half."--Peter Watts, author of BLINDSIGHT
Tor Books, 9780765359070, 335pp.
Publication Date: November 2, 2010
About the Author
A.M. DELLAMONICA has had stories published in various fantasy and science fiction magazines and anthologies. She lives in Vancouver, British Columbia, Canada, where she is at work on Blue Magic, the sequel to Indigo Springs.
or
Not Currently Available for Direct Purchase