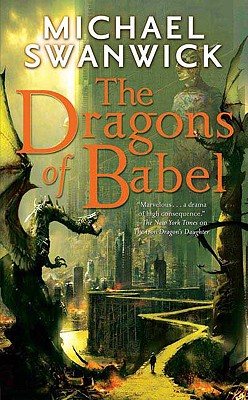 The Dragons of Babel (Mass Market Paperback)
Tor Fantasy, 9780765359131, 368pp.
Publication Date: April 28, 2009
* Individual store prices may vary.
or
Not Currently Available for Direct Purchase
Description
A war-dragon of Babel crashes in the idyllic fields of a post-industrialized Faerie and, dragging himself into the nearest village, declares himself king and makes young Will his lieutenant. Nightly, he crawls inside the young fey's brain to get a measure of what his subjects think. Forced out of his village, Will travels with female centaur soldiers, witnesses the violent clash of giants, and acquires a surrogate daughter, Esme, who has no knowledge of the past and may be immortal.
Evacuated to the Tower of Babel--infinitely high, infinitely vulgar, very much like New York City--Will meets the confidence trickster Nat Whilk. Inside the Dread Tower, Will becomes a hero to the homeless living in the tunnels under the city, rises as an underling to a haint politician, meets his one true love–a high-elven woman he dare not aspire to. You've heard of hard SF: This is hard fantasy from a master of the form.
About the Author
Michael Swanwick lives in Philadelphia, PA. He has won five Hugo Awards and one Nebula Award (for Best Novel).
Praise For The Dragons of Babel…
Praise for The Dragons of Babel:

"The Dragons of Babel is an unqualified masterpiece representing the pinnacle of modern fantasy. Simply put, it is great fantasy as great literature."
--SF Site


"A smart, stark steampunk fantasy. It's gritty and magical and, in sensibility, is similar to Neil Gaiman's Neverwhere and MirrorMask….Original and dashing, The Dragons of Babel is a breath of fresh air."
--Starlog

"This is modern fantasy at its finest and should hold great appeal for fans of Neil Gaiman's Anansi Boys. . . ."
--Publishers Weekly, (starred review)

"Dark, subversive, inventive, challenging, outrageous, and very funny… has to be a contender for one of the best fantasy novels of the year."
--Interzone

"Swanwick's expert craftsmanship gives his fiction a brilliant, highly polished surface."
--The Philadelphia Inquirer

"The Dragons of Babel will immediately capture readers' interest…. Earthy, bawdy, and often brutal, it's a story that will keep science fiction/fantasy fans involved till the end."
--School Library Journal (starred review)

"Swanwick's major accomplishment here—aside from his standard authorial equipment of finely honed prose, inventive plotting, engaging characters and clever symbolical patterning—is to instantiate a world where BMWs and motorcycles can be parked side by side with hippogriffs and manticores without rendering either "vehicle" ridiculous…The ride you get from [Swanwick's] dragons will be like no other."
--Sci Fi Weekly (grade A)

"Witty, inventive, written with enormous flair, this is one of Swanwick's most complex and rewarding novels."
--Asimov's

"If you haven't read Michael Swanwick yet, you've been missing some wonderful prose…Con men and ward heelers, cluricauns and hobgoblins, and a stunningly beautiful elf-woman who rides a hippogriff all entire and enrapture Will, and the reader as well."
--The San Diego Union-Tribune

"I no longer read much fantasy, but would return to it in a Babel minute if I could find more like this: elegant, erudite, slyly funny, hard-nosed, compassionate, propulsive, and capable of punching through overused conventions and sentimentalities and delivering the jolt that restores the form to its primal power."
--Locus
Advertisement