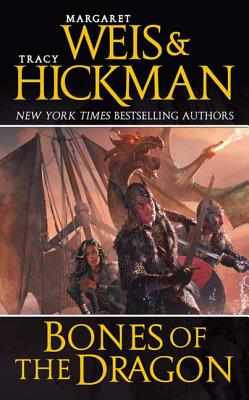 Bones of the Dragon (Mass Market Paperbound)
Tor Books, 9780765359247, 532pp.
Publication Date: December 1, 2009
* Individual store prices may vary.
or
Not Currently Available for Direct Purchase
Description
Filled with heroes and heroines and spanning locales of exotic adventure in a magic-forged world, the Dragonships of Vindras series fully illustrates the mastery of world-building and storytelling that has made Weis and Hickman into the bestselling fantasy co-authors of all time.
In Bones of the Dragon, Skylan Ivorson is a sea-raider of the Vindras and eventually becomes the Chief of Chiefs of all Vindras clans, an honor he truly feels he deserves as one who has been blessed by Skoval, the god of war.
But sometimes a blessing is a curse in disguise.
Skoval and the other ancient gods are under siege from a new generation of gods who are challenging them for the powers of creation and the only way to stop these brash interlopers lies within the mysterious and hidden Five Bones of the Vektan Dragons.
It will be up to the Vindras people, as the dragon-goddess's champions, to undertake the quest to recover all Five. The fate of the Old Gods and the Vindras rests on their recovery--for this is not only a quest to save the world. It is also a quest for redemption.
Welcome to the World of Dragonships
About the Author
Margaret Weis and Tracy Hickman published their first novel in the Dragonlance(TM) Chronicles, Dragons of Autumn Twilight, in 1984. Over twenty years later, they are going strong after collaborating on more than thirty novels. Alone or together with other coauthors, Weis and Hickman have published more than one hundred books, including novels and collections of short stories, as well as role-playing games and other gaming products.
Praise For Bones of the Dragon…
"Weis and Hickman ... have created a believably human story out of their mix of saga and sorcery."
--Publishers Weekly "Weis and Hickman ... again demonstrate their talent for world building and for creating likable yet flawed heroes."
--Library Journal "Action-packed, utterly riveting."
--ComicBookBin Praise for the Novels of Margaret Weis and Tracy Hickman: "The authors of the Dragonlance series again demonstrate their talent for vivid world-crafting and strong characterization in a novel that will appeal to fans of epic fantasy."--Library Journal on Forging the Dark Sword, from the Darksword series "Another smash hit."--Kirkus on The Hand of Chaos, from the Death Gate Cycle "Bestselling authors Weis and Hickman have made another admirable addition to the history, lore, and ways of Krynn."--Publishers Weekly on Dragons of a Vanished Moon, from the Dragonlance Saga
Advertisement