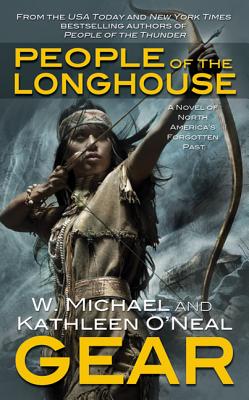 People of the Longhouse (Mass Market Paperbound)
A Novel of North America's Forgotten Past
Tor Books, 9780765359797, 392pp.
Publication Date: February 1, 2011
* Individual store prices may vary.
or
Not Currently Available for Direct Purchase
Description
Six hundred years ago in what would become the northeastern United States and southeastern Canada, five Iroquois tribes were locked in bitter warfare. From the ashes of violence, a great Peacemaker was born...
Young Odion and his little sister, Tutelo, live in fear that one day Yellowtail Village will be attacked. When that day comes and Odion and Tutelo are marched away as slaves, their only hope is that their parents will rescue them.
Their mother, War Chief Koracoo, and their father, Deputy Gonda, think they are tracking an ordinary war party herding captive children to an enemy village. Koracoo and Gonda do not know that Odion and Tutelo have fallen into the hands of a legendary evil: Gannajero the Trader. Known as the Crow, she is a figure out of nightmare, a witch who captures children for her own nefarious purposes. No one can stand against her powers--except perhaps the mysterious Forest Spirit whose tracks have crisscrossed their own throughout their journey.
Odion and the other children struggle to survive their brutal captivity. They, too, have seen the Forest Spirit. But like their parents, they can't be sure if the Spirit is a friend--or is in league with Gannajero....
In People of the Longhouse, New York Times and USA Today bestselling authors W. Michael Gear and Kathleen O'Neal Gear continue the gripping saga of North America's Forgotten Past.
About the Author
Kathleen O'Neal Gear is a former state historian and archaeologist for Wyoming, Kansas, and Nebraska for the U.S. Department of the Interior. She has twice received the federal government's Special Achievement Award for ""outstanding management"" of our nation's cultural heritage. W. Michael Gear holds a master's degree in archaeology and has worked as a professional archaeologist since 1978. He is principal investigator for Wind River Archaeological Consultants. Together they have written the North America's Forgotten Past series (People of the Morning Star, People of the Songtrail, People of the Mist, People of the Wolf, among others); and the Anasazi Mysteries series. The Gears live in Thermopolis, WY.
Praise For People of the Longhouse: A Novel of North America's Forgotten Past…
PRAISE FOR W. MICHAEL AND KATHLEEN O'NEAL GEAR
"People of the Raven, at one level, is the re-creation of a lost and forgotten civilization by two noted archaeologists. But this story of Kennewick Man also involves an important legal battle pending in the U.S. Supreme Court and is a good read for those of us intrigued by the earliest Americans."—Tony Hillerman, New York Times bestselling author
"People of the Raven draws you into a magnificent, sweeping world—America, circa 7300 B.C.—that is so real you can almost breathe in the air of it. It tells a bighearted story of war and peace, love and violence, with a cast of richly drawn characters. This is a novel that will stay with you for years—I guarantee it."—Douglas Preston, New York Times bestselling author of Tyrannosaur Canyon
"Set in the 1300s largely in what is now Alabama and Mississippi, this complex novel tracks three wanderers' quest to create peace in violent times. Blended with the carefully drawn suspense of court intrigues, colorful characters and sharp plot twists, this is a terrific tale."—Publishers Weekly on People of the Thunder
"The Gears, husband-and-wife archaeologists turned bestselling authors, continue their superbly researched and rendered North America's Forgotten Past series. This novel is as good a place as any of its predecessors to jump in and begin enjoying the authors' talents."—Booklist on People of the Thunder
Advertisement