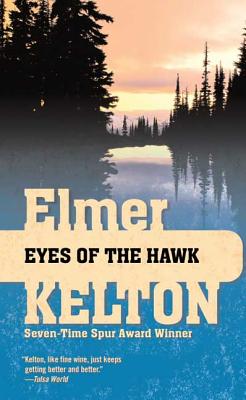 Eyes of the Hawk (Mass Market)
Forge Books, 9780765360540, 192pp.
Publication Date: February 5, 2008
* Individual store prices may vary.
Description
"Eyes of the Hawk was inspired by an old Texas legend about an embittered father who swore to kill the town that had killed his son, and let vengeance turn him into the man he hated most." —Elmer Kelton
No one wants you to tamper with a legend, especially by telling the truth.
So begins the story of a proud man named Thomas Canfield. He is descended from the earliest Texas pioneers and has inherited their courage and fortitude. To the Mexican citizens of Stonehill, Texas, he is "El Gavilán"—the Hawk—so called for the fire in his eyes, especially when confronted by the likes of Branch Isom. This insolent, dangerous newcomer intends to build his fortune at Canfield's expense but underestimates his opponent. When a deadly feud ensues, the town of Stonehill heads toward a day of reckoning and the creation of a legend.
About the Author
Elmer Kelton (1926-2009) was the award-winning author of more than forty novels, including The Time It Never Rained, Other Men's Horses, Texas Standoff and Hard Trail to Follow. He grew up on a ranch near Crane, Texas, and earned a journalism degree from the University of Texas. His first novel, Hot Iron, was published in 1956. Among his awards were seven Spurs from Western Writers of America and four Western Heritage awards from the National Cowboy Hall of Fame. His novel The Good Old Boys was made into a television film starring Tommy Lee Jones. In addition to his novels, Kelton worked as an agricultural journalist for 42 years. He served in the infantry in World War II. He died in 2009.
Praise For Eyes of the Hawk…
"You can never go wrong if you want to read a good story with realistic characters and you pick up a title by Elmer Kelton. . . . Kelton's characters jump off the page, they are so real." —American Cowboy
"Elmer Kelton writes of early Texas with unerring authority. His knowledge of the state's history is complete, too--drawn from the lives of real people." —Fort Worth Star-Telegram
"Elmer Kelton's Westerns are not filled with larger than life gunfighters who can shoot spurs off a cowboy's boots at 100 yards. They are filled with the kind of characters that no doubt made up the West. . . . They are ordinary people with ordinary problems, but Kelton makes us care about them." —Oklahoman
or
Not Currently Available for Direct Purchase