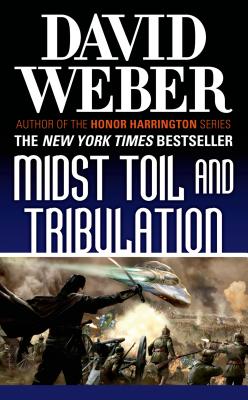 Midst Toil and Tribulation (Mass Market)
A Novel in the Safehold Series (#6)
Tor Science Fiction, 9780765361264, 816pp.
Publication Date: July 30, 2013
Other Editions of This Title:
Digital Audiobook (9/17/2012)
Hardcover (9/18/2012)
Pre-Recorded Audio Player (9/18/2012)
CD-Audio (10/2/2012)
* Individual store prices may vary.
Description
David Weber's New York Times bestselling Safehold series of military Science Fiction adventure, which began with Off Armageddon Reef, continues with Midst Toil and Tribulation
WAR AND FAMINE
Once the Church of God Awaiting dominated all the kingdoms of Safehold. Then, after centuries of stasis, the island kingdom of Charis began to defy the edicts of Mother Church--egged on, some say, by the mysterious warrior-monk Merlin Athrawes, who enjoys the Charisian royal family's absolute trust.
What vanishingly few people know is that Merlin is the cybernetic avatar of a young woman a thousand years dead, felled in the war in which aliens destroyed Earth...and that since awakening, his task has been to restart the history of the long-hidden human race.
Now, reeling from the wars and intrigues that have cascaded from Charis's declaration of independence, the Republic of Siddermark slides into chaos. The Church has engineered a rebellion, and Siddermark's all-important harvest is at risk. King Cayleb and Queen Sharleyan struggle to stabilize their ally, which will mean sending troops--but, even more importantly, preventing famine. For mass starvation in Safehold's breadbasket is a threat even more ominous than civil war...
Safehold Series
1. Off Armageddon Reef
2. By Schism Rent Asunder
3. By Heresies Distressed
4. A Mighty Fortress
5. How Firm A Foundation
6. Midst Toil and Tribulation
7. Like A Mighty Army
8. Hell's Foundations Quiver
9. At the Sign of Triumph
About the Author
David Weber is a science fiction phenomenon. His popular Honor Harrington and Honorverse novels—including Mission of Honor, At All Costs, and Torch of Freedom—are New York Times bestsellers and can't come out fast enough for his devoted readers. He is also the author of the Safehold series, including Off Armageddon Reef, By Schism Rent Asunder, By Heresies Distressed and A Mighty Fortress. His other top-selling science fiction novels include Out of the Dark, the Dahak books and the Multiverse books, written with Linda Evans. He has also created an epic SF adventure series in collaboration with John Ringo, including We Few. His novels have regularly been Main Selections of the Science Fiction Book Club. Weber has a bachelor's degree from Warren Wilson College, and attended graduate school in history at Appalachian State University. He lives in South Carolina.
Praise For Midst Toil and Tribulation: A Novel in the Safehold Series (#6)…
"Superb!" —Booklist, starred review, on By Schism Rent Asunder
"A brillant new saga... Its focus remains on the people who embody the strengths and weaknesses of a flawed but ever hopeful humanity. Highly recommended" —Library Journal, starred review, on By Schism Rent Asunder
"Like its predecessors in the Safehold series, the novel paints a vast, stunningly complex political and military tapestry, with wonderful battle scenes." —Kirkus Reviews on By Heresies Distressed
"Gripping...Shifting effortlessly between battles among warp-speed starships and among oar-powered galleys, Weber brings the political maneuvering, past and future technologies, and vigorous protagonists together for a cohesive, engrossing whole." —Publishers Weekly, starred review, on Off Armageddon Reef
"Vast, complex, intricate, subtle, and unlaydownable. This looks like the start of the biggest thing in science fiction since Isaac Asimov's Foundation series." —Dave Duncan on Off Armageddon Reef
"Effortlessly exceeds the magnificence of its predecessor...I cannot emphasize how much I want to read the next chapter in the Safehold saga." —Fantasy Book Critic on By Schism Rent Asunder
"Fantastic in every sense of the word-the kind of book that makes you sit back and think about this reality that we call life. Who can ask for more than that?" —R. A. Salvatore on Off Armageddon Reef