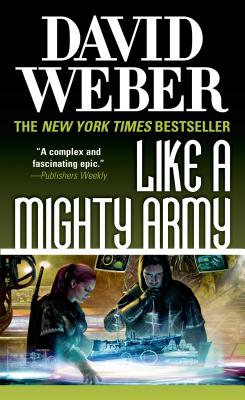 Like a Mighty Army
A Novel in the Safehold Series
Mass Market

* Individual store prices may vary.
Other Editions of This Title:
Digital Audiobook (2/17/2014)
Hardcover (2/18/2014)
Description
David Weber's Like a Mighty Army is the hotly anticipated seventh volume in the New York Times bestselling Safehold series

For centuries, the world of Safehold, last redoubt of the human race, lay under the unchallenged rule of the Church of God Awaiting. The Church permitted nothing new-no new inventions, no new understandings of the world.

What no one knew was that the Church was an elaborate fraud--a high-tech system established by a rebel faction of Safehold's founders, meant to keep humanity hidden from the powerful alien race that had destroyed old Earth.

Then awoke Merlyn Athrawes, cybernetic avatar of a warrior a thousand years dead, felled in the war in which Earth was lost. Monk, warrior, counselor to princes and kings, Merlyn has one purpose: to restart the history of the too-long-hidden human race.

And now the fight is thoroughly underway. The island empire of Charis has declared its independence from the Church, and with Merlyn's help has vaulted forward into a new age of steam-powered efficiency. Fending off the wounded Church, Charis has drawn more and more of the countries of Safehold to the cause of independence and self-determination. But at a heavy cost in bloodshed and loss--a cost felt by nobody more keenly that Merlyn Athrawes.

The wounded Church is regrouping. Its armies and resources are vast. The fight for humanity's future isn't over, and won't be over soon...

Safehold Series
1. Off Armageddon Reef
2. By Schism Rent Asunder
3. By Heresies Distressed
4. A Mighty Fortress
5. How Firm A Foundation
6. Midst Toil and Tribulation
7. Like A Mighty Army
8. Hell's Foundations Quiver
9. At the Sign of Triumph
Tor Science Fiction, 9780765361271, 912pp.
Publication Date: December 30, 2014
About the Author
David Weber is a science fiction phenomenon. His popular Honor Harrington and Honorverse novels—including Mission of Honor, At All Costs, and Torch of Freedom—are New York Times bestsellers and can't come out fast enough for his devoted readers. He is also the author of the Safehold series, including Off Armageddon Reef, By Schism Rent Asunder, By Heresies Distressed and A Mighty Fortress. His other top-selling science fiction novels include Out of the Dark, the Dahak books and the Multiverse books, written with Linda Evans. He has also created an epic SF adventure series in collaboration with John Ringo, including We Few. His novels have regularly been Main Selections of the Science Fiction Book Club. Weber has a bachelor's degree from Warren Wilson College, and attended graduate school in history at Appalachian State University. He lives in South Carolina.