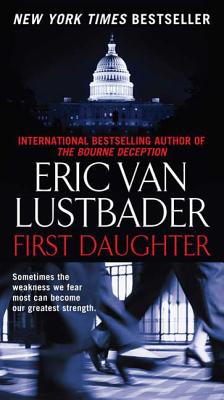 First Daughter (Mass Market Paperbound)
A McClure/Carson Novel
Forge, 9780765361424, 454pp.
Publication Date: September 1, 2009
* Individual store prices may vary.
or
Not Currently Available for Direct Purchase
Description
Sometimes the weakness we fear most can become our greatest strength . . .
Jack McClure has had a troubled life. His dyslexia always made him feel like an outsider. He escaped from an abusive home as a teenager and lived by his wits on the streets of Washington D.C. It wasn't until he realized that dyslexia gave him the ability to see the world in unique ways that he found success, using this newfound strength to become a top ATF agent.
When a terrible accident takes the life of his only daughter, Emma, and his marriage falls apart, Jack blames himself, numbing the pain by submerging himself in work. Then he receives a call from his old friend Edward Carson. Carson is just weeks from taking the reins as President of the United States when his daughter, Alli, is kidnapped. Because Emma McClure was once Alli's best friend, Carson turns to Jack, the one man he can trust to go to any lengths to find his daughter and bring her home safely.
The search for Alli leads Jack on a road toward reconciliation . . . and into the path of a dangerous and calculating man. Someone whose actions are as cold as they are brilliant. Whose power and reach are seemingly infinite.
Faith, redemption, and political intrigue play off one another as McClure uses his unique abilities to journey into the twisted mind of a stone cold genius who is constantly one step ahead of him. Jack will soon discover that this man has affected his life and his country in more ways than he could ever imagine.
About the Author
Eric Van Lustbader is the author of numerous New York Times bestselling thrillers and fantasy novels, including Last Snow, Blood Trust, The Ninja and The Pearl series. Lustbader was chosen by Robert Ludlum's estate to continue the Jason Bourne series, and his Jason Bourne novels include The Bourne Legacy and The Bourne Betrayal. Born and raised in Greenwich Village in New York City, Lustbader worked in the New York public school system and in the music business before turning to writing full-time. He lives in Manhattan and on the South Fork of Long Island with his wife, Victoria, who is also an accomplished author.
Praise For First Daughter: A McClure/Carson Novel…
"Adroitly knits a tale of political intrigue ... Recommended for all fiction collections."—Library Journal
"Rarely have I read a book that grabs you so fast in the opening scene (and, oh, how it grabs!), then keeps up the pace until the very last page. Goodbye sleep; hello First Daughter."--Jeffery Deaver, New York Times bestselling author of The Sleeping Doll and The Broken Window

"A terrific story, swift-moving and thought-provoking, but told with a depth and tenderness that will last long after you have closed the final page."—Anne Perry, New York Times Bestselling author of At Some Disputed Barricade

"Action, suspense and politics blended to perfection by a master."—Lee Child, New York Times bestselling author of the Jack Reacher series

"I've long been a fan of Eric Van Lustbader, and he's at his heart-pounding best with First Daughter, a timely and frightening political thriller.  If election year politics aren't already exciting enough for you, here are the chills you've been looking for."-- Tess Gerritsen, New York Times bestselling author of The Keepsake

"From the opening chapter, First Daughter smashes the sound barrier of psychological tension, action and suspense. The story hits Mach 5 and never slows down. I hope we see more of ATF agent Jack McClure. Outstanding!"--Douglas Preston, New York Times bestselling author of Blasphemy

"A seductive, sophisticated, authentic thriller.  Finely conceived—brilliantly executed.  Eric Van Lustbader's legion of fans will be both pleased and enhanced by this terrific story, terrifically told, by a master who knows how to manipulate the reader in fiendishly exciting ways."—Steve Berry, New York Times bestselling author of The Venetian Betrayal
Advertisement