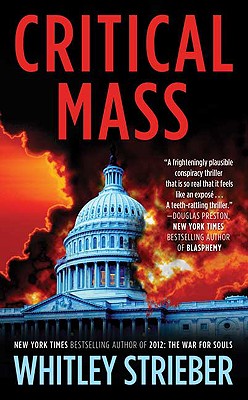 Critical Mass (Mass Market Paperback)
Tor Books, 9780765362476, 384pp.
Publication Date: December 29, 2009
* Individual store prices may vary.
or
Not Currently Available for Direct Purchase
Description
What would we do if a nuclear weapon was detonated in Washington, and the US government suddenly disappeared? What would we do if a terrorist organization announced that it had concealed nuclear weapons in ever major western city and then demanded that the entire planet embrace its twisted brand of Muslin fundamentalism?
In Critcal Mass, nuclear interdiction expert James Deutsh and his tormented Muslim wife, Nabila, struggle to stop an impending nuclear attack on an American city. Along the way, they delve deep into the hidden world of nuclear terrorism and the experts who strive to contain it, and get a compelling look at the titanic battle within Islam over its own future--fundamentalist and rejecting, or compassionate and life-embracing?
Like Whitley Strieber's classics Warday and The Coming Global Superstorm, Critical Mass is torn straight from the dark pages of a very dangerous and very possible future.
About the Author
WHITLEY STRIEBER is the bestselling author of more than 25 books, including the legendary "Warday, Nature's End, "and "Superstorm," the basis of the movie "The Day After Tomorrow." His most recent books, "The Grays" and "2012: the War for Souls, " are both being made into films.
Praise For Critical Mass…
"Whitley Strieber's Critical Mass is one hell of a book--a frighteningly plausible conspiracy-thriller that is so real it sometimes feels like an expose. Nuclear killers, lovers on the run, all-knowing, omnipresent listening and seeing devices - Critical Mass conjures up a world that is terrifying in its technological plausibility - if not probability."--Douglas Preston, New York Times bestselling author of Blasphemy "Nothing less than a certifiable page-turner. As I was reading it, I kept seeing the story unfolding on the big screen, just like The Day After Tomorrow. The threat of a nuclear strike against the U.S. is very real and very chilling, as are the kinds of people Strieber has conjured up in this really exciting yarn."--David Hagberg, USA Today bestselling author of Dance with the Dragon "Engrossing . . . A first rate exercise in literary paranoia."--Publisher's Weekly on The Grays "[A] truly spooky sci-fi tale."--People on The Grays
Advertisement