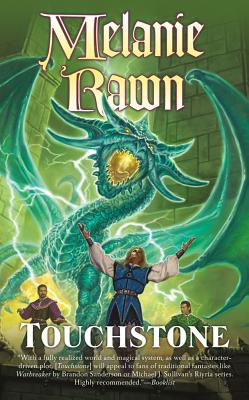 Touchstone (Glass Thorns #1) (Paperback)
Tor Fantasy, 9780765363473, 464pp.
Publication Date: December 24, 2012
Other Editions of This Title:
Hardcover (2/28/2012)
* Individual store prices may vary.
Description
Although Touchstone can stand alone, it is the first book of a brilliant, utterly engaging new fantasy series, Glass Thorns, from Melanie Rawn, the author of the bestselling Dragon Prince series.
Cayden Silversun is part Elven, part Fae, part human Wizard—and all rebel. His aristocratic mother would have him follow his father to the Royal Court, to make a high society living off the scraps of kings. But Cade lives and breathes for the theater, and he's good—very, very good. With his company, he'll enter the highest reaches of society and power as an honored artist—or die trying. Cade combines the talents of Merlin, Shakespeare, and John Lennon: a wholly charming character in a remarkably original fantasy world created by a mistress of the art.
The Glass Thorns Series
#1 Touchstone
#2 Elsewhens
#3 Thornlost
#4 Window Wall
#5 Playing to the Gods (forthcoming)
About the Author
MELANIE RAWN is the three-time Locus Award–nominated author of the bestselling Dragon Prince trilogy, the Dragon Star trilogy, and the Glass Thorns trilogy, including Touchstone, Elsewhens, and Thornlost. She graduated from Scripps College with a BA in history and has worked as a teacher and editor. Rawn lives in Flagstaff, Arizona.
Praise For Touchstone (Glass Thorns #1)…
"Impressive… Melanie Rawn is good!" —Anne McCaffrey, bestselling author of The Dragonriders of Pern
"I am mad (petulant, in fact!) that I can't immediately read book number two in the Exiles trilogy.... Melanie Rawn has established beyond doubt that she is a great writer of fantasy and The Ruins of Ambrai will join the Dragon series in my library of favorites for years to come." —Realms of Fantasy on The Ruins of Ambrai
"Rawn's talent for lush descriptions and complex characterizations provides a broad range of drama, intrigue, romance, and adventure. Her depiction of Lenfell's unique matriarchal society adds further texture to this densely woven fantasy tapestry." —Library Journal on The Ruins of Ambrai
"Romance, intrigue, magic, and myth mingle freely in this first of a series that should appeal to readers of fantasy and epic romance." —Library Journal on The Dragon Prince