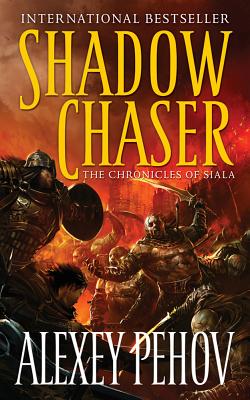 Shadow Chaser (Mass Market Paperbound)
Tor Books, 9780765363688, 450pp.
Publication Date: February 28, 2012
* Individual store prices may vary.
or
Not Currently Available for Direct Purchase
Description
The adventures of Shadow Harold continue in "Shadow Chaser" .

Saddened because they have left one of their number in a grave in the wilderness, Harold and his band of outcasts continue their journey towards the dreaded underground palace of Hrad Spein. But before they can reach their goal, they must overcome all manner of obstacles, fight many battles and evade the frightful enemies on their trail.
Once they have breached Hrad Spein, a task entire armies of warriors and wizards have failed to achieve, Harold must venture, alone, into the secret heart of the most dangerous place in his world. There he will fight legions of untold mysterious powers before he can complete the quest for the magic horn that will save his beloved land from The Nameless One.
About the Author
Alexey Pehov is the award-winning author of The Chronicles of Siala, a bestselling series in his native Russia. His novel Under the Sign of the Mantikor was named "Book of Year" and "Best Fantasy Novel" in 2004 by Russia's largest fantasy magazine, World of Fantasy. Andrew Bromfield has many translation credits to his name, among them the bestselling Night Watch series.
Praise For Shadow Chaser…
"The second of the Chronicles of Siala is as mesmerizing as Shadow Prowler... Again, Pehov's mastery pulls the reader into the story, creating vibrant interpersonal encounters in a believable world."
—Booklist on Shadow Chaser 

Praise for Shadow Prowler


"Bestselling Russian author Pehov translates easily in his English fantasy debut…. Protagonist Shadow Harold proves modest and witty enough a narrator to carry the series."
—Publishers Weekly

"Those who like fantasy novels offering ogres, elves, undead creatures, wizards, and the like joined in an epic quest will be delighted…pitched battles are described so well that they seem to unfold before one's eyes. A first book in a series that piques interest for the others."
—Booklist

"Toothy, gritty, and relentless. Alexey Pehov sneaks up on you and fascinates with the wry voice of a young Moorcock. Clear space on your shelf—you'll want the whole series."
—E.E. Knight

"The story is engrossing, the characters intriguing and dynamic; there are mysteries galore and the very real sense as we set out that far creepier things are waiting down the road. In short, a book I didn't want to put down."
—Chris Claremont, bestselling writer of the X-Men and Wolverine

"Shadow Prowler is a fresh, exuberant take on territory that will be familiar to all fans of classic high fantasy. Alexey Pehov introduces a cast of charming, quirky, unsavory, even loathesome characters in a fast-paced, entertaining adventure."
—Kevin J. Anderson, co-author of the bestselling Dune novels

"[Shadow Harald is] almost like some character out of The Adventures of Fafhrd and the Gray Mouser saga by Fritz Leiber. He's an unlikely sort of hero for a series, which added to my growing interest in The Shadow Prowler….  Shadow Prowler is a very good beginning to Alexey Pehov's trilogy."
—BSC Reviews

"A book that most fantasy readers will want to read and explore…. In short, if you like reading fantasy, you'll love reading this book."
—Graeme's Fantasy Book Reviews
Advertisement