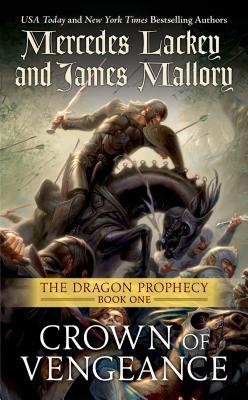 Crown of Vengeance (Paperback)
The Dragon Prophecy, Book One (The Dragon Prophecy Trilogy #1)
Tor Fantasy, 9780765363978, 672pp.
Publication Date: August 27, 2013
Other Editions of This Title:
Hardcover (11/13/2012)
MP3 CD (7/8/2014)
* Individual store prices may vary.
Description
Crown of Vengeance begins a new epic fantasy saga from New York Times and USA Today bestselling authors Mercedes Lackey and James Mallory, set in the world of the Obsidian Mountain and Enduring Flame trilogies.
The child Vielle is the daughter of a mad king and queen, her lands lost before her birth, her family erased from history. Born on a night of storm and terror, raised in hiding, then banished from the only home she has ever known—the final stroke of a war begun centuries before.
Vieliessar, grown into the long adulthood that is Elven life, secretly studies hidden lore to discover the prophecy that heralded her birth, secretly studies the use of magic everyone assumes she does not have. Dark dreams teach lessons of war and duty, of strategy and magecraft, that she could not learn in a thousand lifetimes.
She does not have a thousand lifetimes. She has just one—and her time is running out. For the prophecy speaks not just of her, but of a great Darkness that will destroy the Elven kingdoms. A Darkness that is soon to rise, now that Vieliessar has embarked on her quest for the High Kingship. Vieliessar is both the trigger for her people's destruction--and their only hope of survival.
In this sweeping epic fantasy of magic, battle, and the twists and turns of war, Mercedes Lackey and James Mallory journey into the past of the Fortunate Lands, bringing to vivid, heart-pounding life people who will soon pass into legend.
Previous Trilogies set in the world of Crown of Vengeance:
The Enduring Flame Series:
The Phoenix Unchained
The Phoenix Transformed
The Phoenix Endangered
The Obsidian Trilogy:
The Outstretched Shadow
To Light a Candle
When Darkness Falls
About the Author
Mercedes Lackey is the author of the bestselling Valdemar series, the Obsidian Trilogy (The Outstretched Shadow, To Light a Candle, and When Darkness Falls), the Enduring Flame trilogy (The Phoenix Unchained, The Phoenix Engendered, and The Phoenix Transformed), and The Phoenix Tales of the Five Hundred Kingdoms. She has written many other books, including Trio of Sorcery, Phoenix and Ashes, Sacred Ground, The Firebird, The Fairy Godmother, and Alta. Lackey is the co-author, with Andre Norton, of the Halfblood Chronicles, including Elvenborn. Mercedes Lackey was born in Chicago and graduated from Purdue University. She has worked as an artist's model, a computer programmer, and for American Airlines, and has written lyrics and recorded more than fifty songs. She lives in Oklahoma.

James Mallory is the author of the Merlin trilogy (Merlin: The Old Magic; Merlin: The King's Wizard; Merlin: The End of Magic). He lives in upstate New York.
Praise For Crown of Vengeance: The Dragon Prophecy, Book One (The Dragon Prophecy Trilogy #1)…
"A fantasy fanatic's feast." —Kirkus Reviews
"The quickly-paced plot has just the right mixture of pathos and levity. A thoughtfully created world, engaging characters, and a tighter plot than many fantasy epics make this new novel a must-have." —VOYA on The Phoenix Unchained
"[An] enjoyable read." —RT Book Reviews on The Phoenix Endangered
"Delightful." —Booklist on The Outstretched Shadow
"Wonderful . . . . Simply a joy to read. With just the right pacing, interesting characters, and sense of danger around every turn, fantasy fans will feel like they have come home. This is a novel about friendship, duty, and the existence of right and wrong. The reader will be able to sit back, relax, and enjoy some good old-fashioned escapism." —Grasping for the Wind on The Phoenix Unchained
"Entertaining. . . . This beguiling beginning promises a highly readable epic combining vivid characterization with an interesting exploration of how past heroics are twisted over centuries into something both more and less than they were." —Publishers Weekly on The Phoenix Unchained
"Solidly developed characters, appealing magical companions, and an intriguing tale make this a good addition, along with its predecessor, to any fantasy collection." —Library Journal on The Phoenix Endangered
"Highly readable. High fantasy fans should appreciate the intelligent storytelling." —Publishers Weekly on When Darkness Falls
"Readers can rest assured that Lackey and Mallory will not let them down." —SFRevu
"Lackey and Mallory combine their talents for storytelling and world crafting into a panoramic effort." —Library Journal on To Light a Candle