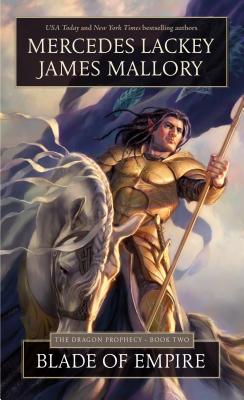 Blade of Empire (Paperback)
Book Two of the Dragon Prophecy (The Dragon Prophecy Trilogy #2)
Tor Fantasy, 9780765363985, 512pp.
Publication Date: August 28, 2018
Other Editions of This Title:
Hardcover (10/24/2017)
MP3 CD (8/28/2018)
Compact Disc (10/24/2017)
Compact Disc (8/28/2018)
MP3 CD (10/24/2017)
Compact Disc (10/24/2017)
* Individual store prices may vary.
Description
FROM THE AUTHORS OF NEW YORK TIMES BESTSELLERS WHEN DARKNESS FALLS AND THE PHOENIX TRANSFORMED, AND USA TODAY BESTSELLER TO LIGHT A CANDLE
They thought the war was over. They were wrong.
Runacarendalur Caerthalien has been a master of battle for hundreds of years, but he found himself on the wrong side—the losing side—in the last war. Betrayed by his brother, trapped in a prophecy he does not understand, Runacar flees the battlefield.
Yet Runacar is no coward. In a twist he could never have imagined, the Elven War-Prince finds himself leading a new army into battle—a force of centaurs, merfolk, gryphons, minotaurs, and talking bears who can perform magic. For centuries they have been trying to reclaim their lands from Elven invaders. With Runacar at the helm, they just might manage it.
Mercedes Lackey and James Mallory's first collaboration, the Obsidian Mountain trilogy, introduced readers to a brilliant, continent-spanning fantasy world of high adventure and epic battle. Civilization shimmered with magic while in the nooks and crannies of the world, dragons and unicorns hid from people who believed them to be nothing more than legends.
The Dragon Prophecy, set thousands of years before that story, illuminates a time when long-lived Elves rule the Fortunate Lands. It is a time of dire prophecy, of battle and bloodshed, of great magics unlike any the Elvenkind have seen before. It is the story of the end of one world and the beginning of the next.
The Obsidian Mountain Trilogy
#1 The Outstretched Shadow
#2 To Light a Candle
#3 When Darkness Falls
The Enduring Flame Trilogy
#1 The Phoenix Unchained
#2 The Phoenix Endangered
#3 The Phoenix Transformed
The Dragon Prophecy Trilogy
#1 Crown of Vengeance
#2 Blade of Empire
About the Author
Mercedes Lackey is the author of the bestselling Valdemar series, the Obsidian Trilogy (The Outstretched Shadow, To Light a Candle, and When Darkness Falls), the Enduring Flame trilogy (The Phoenix Unchained, The Phoenix Engendered, and The Phoenix Transformed), and The Phoenix Tales of the Five Hundred Kingdoms. She has written many other books, including Trio of Sorcery, Phoenix and Ashes, Sacred Ground, The Firebird, The Fairy Godmother, and Alta. Lackey is the co-author, with Andre Norton, of the Halfblood Chronicles, including Elvenborn. Mercedes Lackey was born in Chicago and graduated from Purdue University. She has worked as an artist's model, a computer programmer, and for American Airlines, and has written lyrics and recorded more than fifty songs. She lives in Oklahoma.

James Mallory is the author of the Merlin trilogy (Merlin: The Old Magic; Merlin: The King's Wizard; Merlin: The End of Magic). He lives in upstate New York.
Praise For Blade of Empire: Book Two of the Dragon Prophecy (The Dragon Prophecy Trilogy #2)…
Praise for the novels of Mercedes Lackey and James Mallory
"The book strikes the right balance between the struggles of a young girl thought to be the 'Child of the Prophecy' and the epic mythology that leads her to embrace a queen's destiny with Joan-of-Arc fervor."—RT Book Reviews on Crown of Vengeance
"Spectacular. A fascinating and complex world."—BookLoons on The Phoenix Transformed (a New York Times bestseller)
"As entertaining as the first trilogy. Engaging characters and a tighter plot than many fantasy epics make this a must-have."—VOYA on The Phoenix Unchained
"Fans of high fantasy will surely enjoy this."—SFRevu on The Phoenix Unchained
"[A] captivating world [is] conjured by veteran Lackey and classical scholar Mallory in this high fantasy. The narrative speeds to the end, leaving the reader satisfied and wanting to know more."—Publishers Weekly on The Outstretched Shadow
"Lackey and Mallory combine their talents for storytelling and world crafting into a panoramic effort. Filled with magic, dragons, elves, and other mythical creatures, this title belongs in most fantasy collections."—Library Journal on To Light a Candle (a USA Today bestseller)