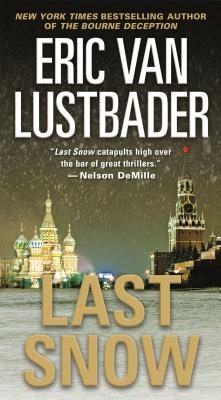 Last Snow (Mass Market Paperbound)
Forge, 9780765364364, 517pp.
Publication Date: May 2, 2017
Description
New York Times bestselling sensation Eric Van Lustbader created the legendary Nicholas Linnear of The Ninja and brought Jason Bourne into the twenty-first century. Last year, in First Daughter, Lustbader introduced street-smart ATF agent Jack McClure, who saved the President's daughter from a criminal mastermind.
When an American senator who is supposed to be in the Ukraine turns up dead on the island of Capri, the President asks McClure to investigate. Jack sets out from Moscow across Eastern Europe, following a perilous trail of diplomats, criminals, and corrupt politicians. His task is complicated by two unlikely, unexpected, and incompatible companions---Annika, a rogue Russian FSB agent, and Alli, the President's daughter.
Thrust into the midst of a global jigsaw puzzle, Jack's unique dyslexic mind allows him to put together the pieces that others can't even see. As he struggles to keep both young women safe and uncover the truth behind the senator's death, Jack learns just how far up the American and Russian political ladders corruption and treachery have reached.
About the Author
Eric Van Lustbader is the author of numerous New York Times bestselling thrillers and fantasy novels, including First Daughter, Blood Trust, The Ninja and The Pearl series. Lustbader was chosen by Robert Ludlum's estate to continue the Jason Bourne series, and his Jason Bourne novels include The Bourne Legacy and The Bourne Betrayal. Born and raised in Greenwich Village in New York City, Lustbader worked in the New York public school system and in the music business before turning to writing full-time. He lives in Manhattan and on the South Fork of Long Island with his wife, Victoria, who is also an accomplished author.
Praise For Last Snow…
"A seductive, sophisticated, authentic thriller…Eric Van Lustbader's legion of fans will be both pleased and enhanced by this terrific story, terrifically told, by a master who knows how to manipulate the reader in fiendishly exciting ways."
—Steve Berry, New York Times bestselling author of The Venetian Betrayal
"A terrific story, swift-moving and thought-provoking, but told with a depth and tenderness that will last long after you have closed the final page."
--Anne Perry, New York Times bestselling author of At Some Disputed Barricade
"Last Snow catapults high above the bar of great thrillers."
—Nelson DeMille, New York Times bestselling author of The Gate House
Advertisement